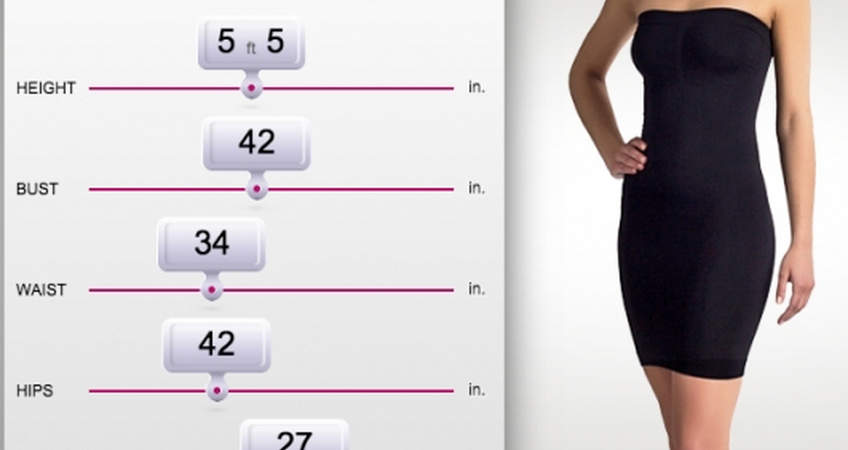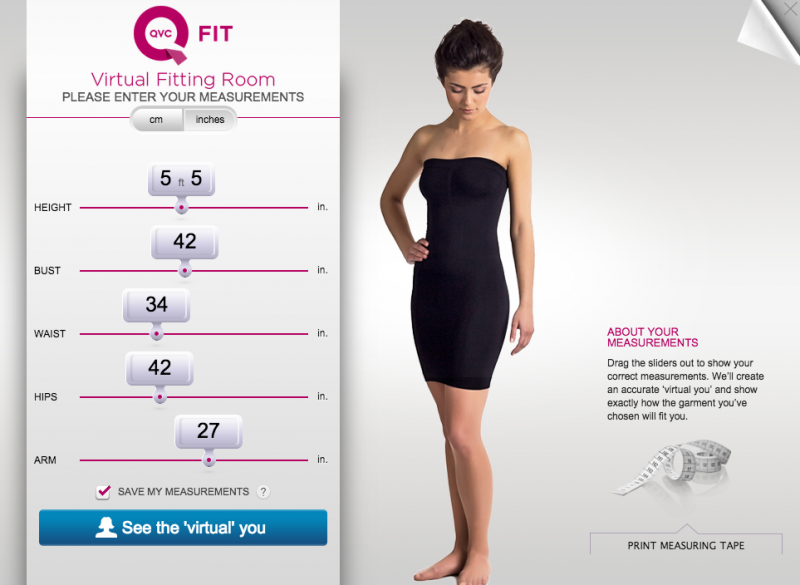 It's common to see fashion retailers focus on the latest bright new shiny toys considered to be the latest digital craze or phenomenon, and in doing so miss out on delivering content and experiences that really matter to consumers.
One area where the majority of fashion retailers fall short, according to Euromonitor, is content and consumer experiences for size and fitting. Consumer experience in this context relates to delivering positive, intuitive, seamless steps so the consumer can gain confidence in a his/her size selection when purchasing apparel online.
Tamara Sender Senior Fashion Analyst in the UK agrees, "one of the main barriers to shopping online for clothes is fit and it is still a category where consumers like to try on and see items in person".
The retailers who face the biggest challenge in delivering fit and sizing solutions are with those who carry multiple brands. These retailers are reliant on the content provided by multiple suppliers along with juggling differing sizing rules for each garment type and brand.
How big is this problem?
Online apparel sales in the US is growing faster than any other eCommerce product segment . This growth is stimulated by improvements in online merchandising and retailer improvements in return polices.
Many retailers introduce lenient return polices and offer free shipping for returns to compensate for the fit and sizing content. "Some customers treat our free shipping service as part of their changing room experience, except it's at home in their bedroom," says Sophie Glover, head of technical services at online fashion juggernaut ASOS.
At Guess, eCommerce is "growing at a much faster pace than brick-and-mortar stores, but nonetheless, 70 percent of people who visit Guess.com shop at the company's physical stores" says executive vice president Michael Relich.
The size of the problem comes in three forms:
The lost opportunity with only a 2% conversion rate for apparel. This lost opportunity is compounded when considering the lifetime value of a customer not acquired.
The costs associated for a return: shipping, handling, credit card processing fees, repackaging, and restocking for seasonally sensitive products.
The operational stress put on the business. Imagine what a retailer could do with freed up resource from processing fewer returns.
Euromonitor's "Fashion Etailing and Innovation Hotspots" presentation in December 2014 discusses how fashion retailers need to do a better job of enabling consumers to "try before buying online". Other than the obvious suggestions of more flexible returns policies and delivering in store returns and exchange options for online purchases, the presentation goes on to recommend investment in virtual fitting rooms.
Are Virtual Fitting Rooms the solution?
In recent years software companies have grown from the need to solve this problem: Virtusize, Fits.me, True Fit and Clothes Horse, have all attempted to tackle the fit problem with a range of technology-based solutions, from morphing mannequins to size recommendation engines, all with the goal to simulate the physical fit and sizing experience.
Many retailers would accept the above solutions with open arms thinking this is the "fit and sizing silver bullet". But in fact its not.
To solve fit and sizing, retailers must effectively deliver two things working in unison: accurate relevant content, and a good experience. Retailers who still have not perfected the content required to feed these software tools fall into the old saying, "garbage in garbage out".
The size and fitting online journey must be easy to use. Virtual fitting room software is still relatively new for consumers and a "best practice" approach has not yet been established. The steps from beginning to end must be fool proof making fundamental usability principals a critical part.
Glovern from Asos, agrees and says...
Asos is regularly presented with new technology designed to support more accurate sizing choices and reduce returns related to this area of purchase, but so many of them are not practical in what they require the customer to do.
To illustrate this point, you will now see what its like to learn your fit and sizing if shopping on QVC who currently use Fits.me.
Virtual fitting room in action
Issue #1, the call to action on the product detail page. The first issue is the call to action on the product detail page being the same colour as the others. It should be a different colour to catch the attention of the consumer and letting him/her know this is not a buying action they will be undertaking. This is the fault of QVC not Fits.me.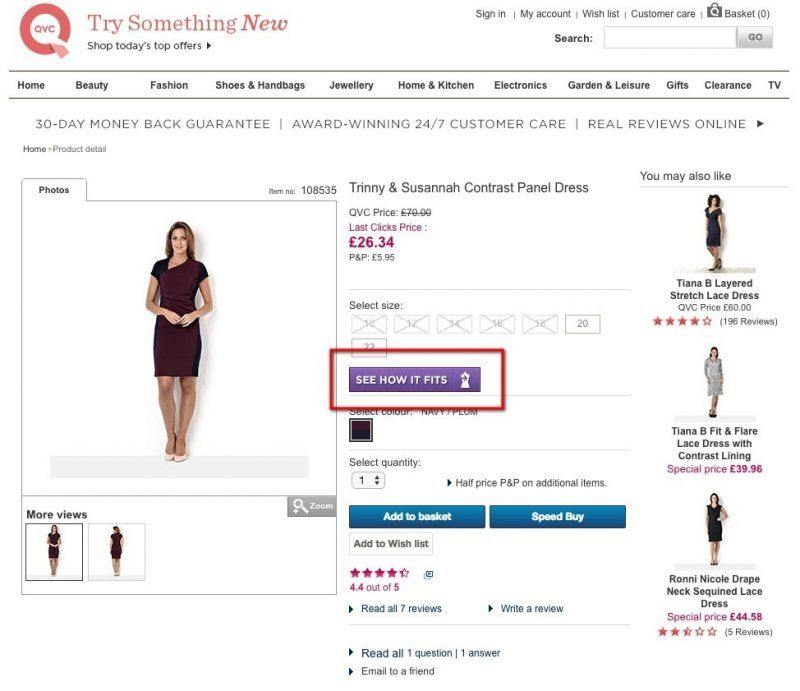 Issue #2, time to load to activate the fit and sizing pop-up. When you select the "See How It Fits" call to action, the software (at the time of writing this article) took a minimum of 5 seconds to deliver the pop up and activate the software.
Fits.me is a hosted solution making this their issue and an alarm bell for retailers. Make sure the software has scalable capabilities for traffic spikes and concurrent activity.
Loading your size details. The first step requires you to enter your measurements, a very straightforward and obvious process. What you can't see in the screenshot is, once you click on "Bust" it coaches you how to measure this part of the body. No issue here.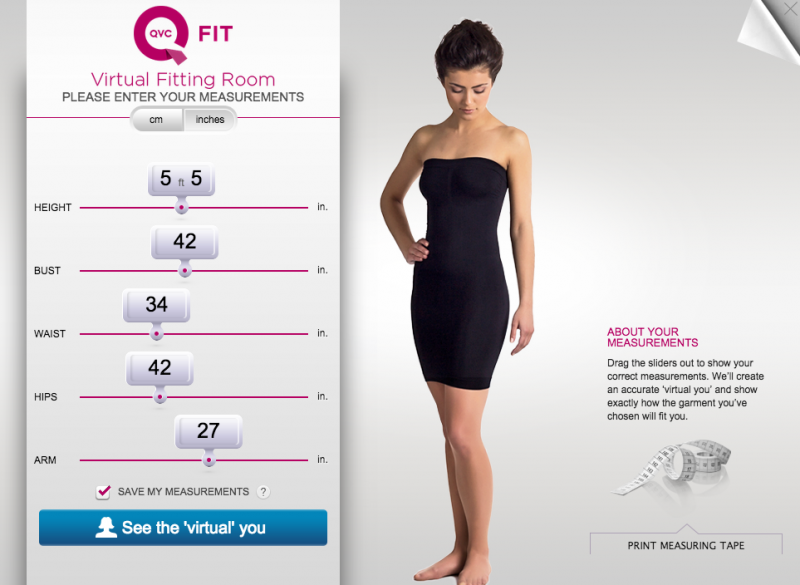 Issue #3, error messages. If you enter in body dimensions not linked to the database you are told the size recommendation is not available. This did not happen every time but enough to mention (approximately 20%), and realistic measurements were provided during this analysis of the experience.
Having a page appear with the message below would put consumers off and is a good example of insufficient content being fed into the software.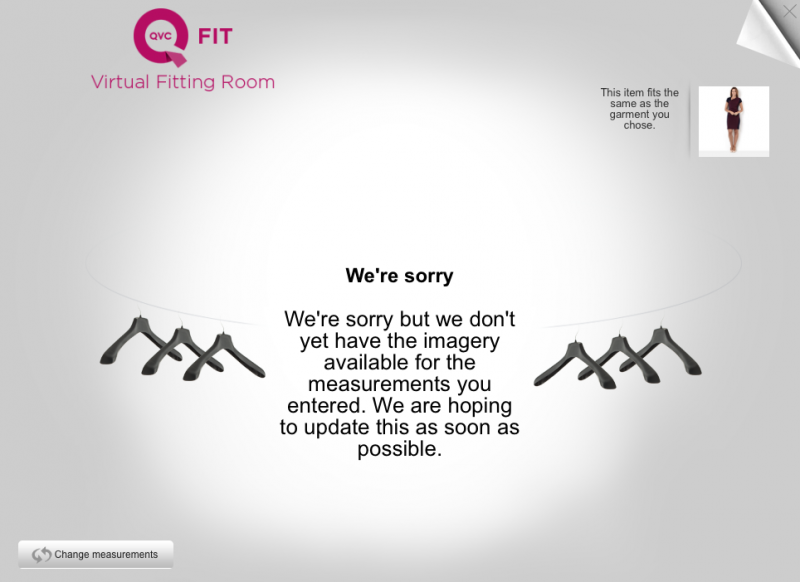 Issue #4, survey question. Once you successfully complete the process by selecting a size, a screen appears asking to rate the experience. This survey comes from Fits.me attempting to measure its effectiveness with no regard for the retailer and more importantly to the consumer journey.
It's like a retailer asking a consumer how they felt about a product detail page once they added something to their shopping cart.
The fact a consumer has selected a size from the Fits.me should be a clear indicator of the value it delivered. Something easily tracked in analytics.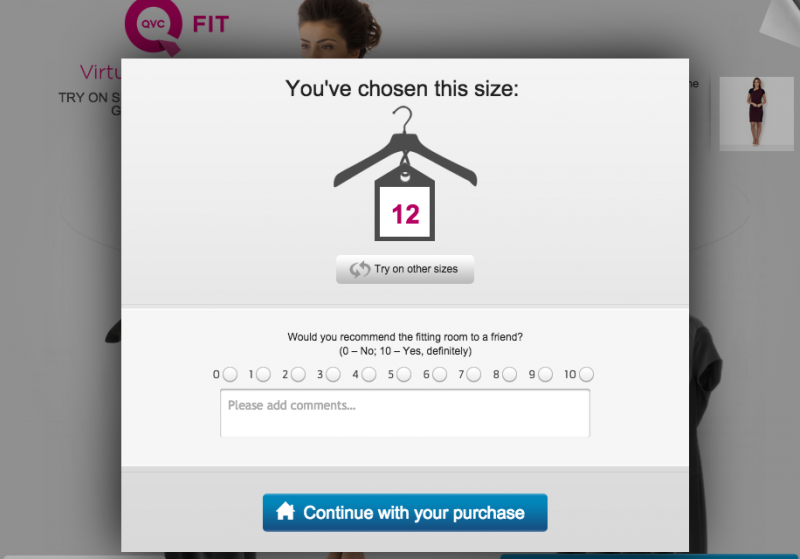 Some positive feedback on Fits.me. When the Fits.me software worked, it provided good recommendations and guidance as to when a garment was tight fitting and loose fitting based on the measurements provided.
The image below shows how Fits.me provides guidance around a garment being too tight if a consumer tries to purchase a size 12 with specific body measurements.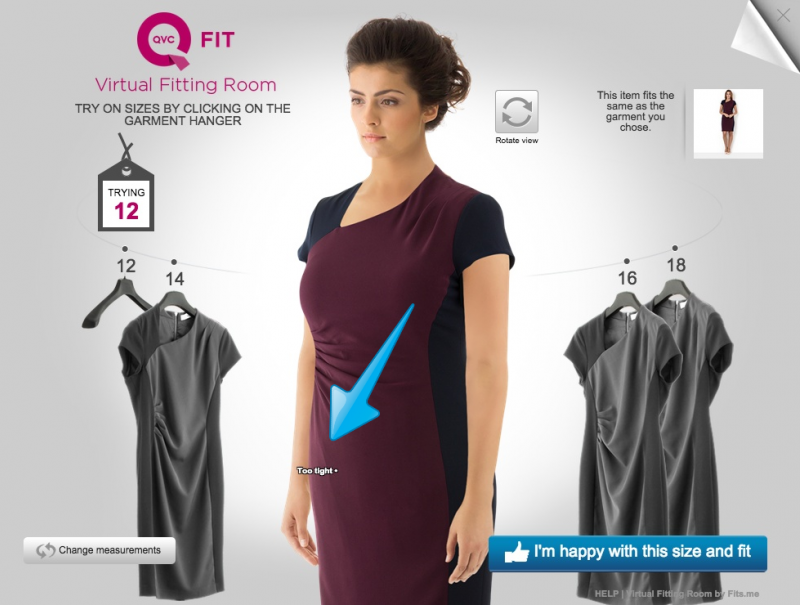 Fits.me works very well on both the tablet and smartphone. If Fits.me and QVC worked together to iron out the issues mentioned above, together they would deliver a great service and experience.
The moral of the story is, the novelty of third party software wears off very quickly if the experience is clunky and the content is inadequate. The retailer cannot rely on the software to make their problem go away, the consumer associates the bad experience to the retailer not the software tool.
Virtual fitting room software is not a silver bullet and can create more problems than it solves. So plan and research carefully.
Getting fitting and size right online is a key strategic piece of the Omni channel puzzle. Recognise its importance and take your time getting it right.
It's worth the effort.
---
This article was as tagged as Customer Experience Design , Data Driven Decision Making , Digital Strategy