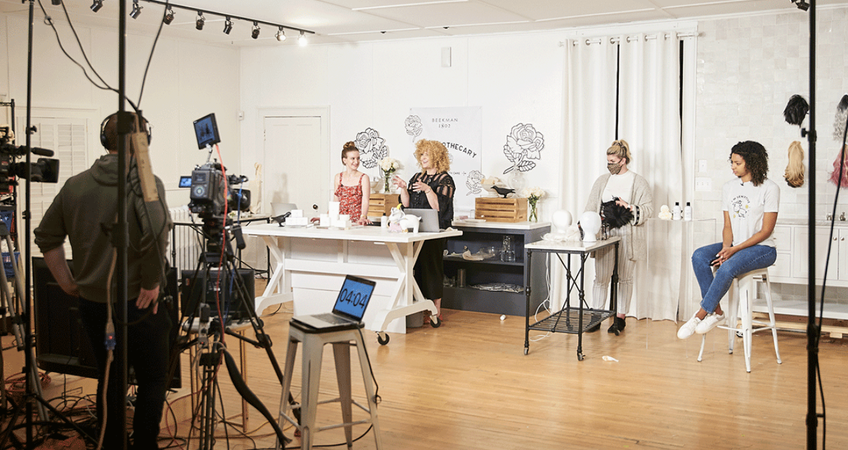 What do you get when you mix….
Consumers who want to engage and buy online with,
Average online experiences – retailers are not doing a good enough job to meet engagement needs with,
A Pandemic forcing people away from a physical retail
You get explosive growth of "Livestreamed Retail"! Translation: the new generation of TV Shopping Channels minus the TV, with effective and easy online buying methods.
This is nothing new, the concept of TV Shopping Channels has been around for decades. However, it has evolved.
Livestreaming retail is expected to grow from $5 billion in 2020 to reach $11 billion by the end of 2021 and is projected to more than double over the next two years, hitting $25 billion by 2023.
In China, where livestream shopping is established, the numbers are even higher, by 2022, its predicted to reach over $400 billion in annual revenue.
New business models are rapidly emerging to meet this demand.
Not a "Silver Bullet":
For retailers thinking this is the new "Silver Bullet," it pays to pause and think about what is making this a success: Product Storytelling!
A co-founder of one of the larger Livestreaming businesses, Beekman 1802, explains the key is in the storytelling of every product.
We're not saying the same story over and over again; we have a multi-layered story that can continue to captivate the customer. The longer you captivate them, the more likely they are to stick around and actually buy a product. Probably 80% of getting someone to make a purchase on Livestream shopping or TV is about getting them to stop and listen.
For retailers, this act of storytelling is the equivalent of driving online engagement and filling the site with powerful and meaningful product content. If you are a business still struggling with this, the transition to Livestreaming will be difficult.
Established Retailers are Livestreaming:
Retailers are starting to take notice and activating live streaming channels. Nordstrom has launched its own platform: the "Livestream Shopping" channel.
In April 2021 Petco hosted its first-ever livestreamed shopping event. Bloomingdales has hosted over 50 shoppable livestreamed events over the past year, ranging from make-up tutorials to styling sessions, to cooking lessons, to fitness classes.
Walmart held two livestream shopping events on TikTok in December 2020 and March 2021.
What do you get when you mix….
The convenience of eCommerce – intuitive methods to engage and transact with,
Great streaming production to activate another touchpoint with,
The delivery of entertaining content to activate hands-on learning of a product (great storytelling) with,
Effectively replacing the physical need of in-store browsing
You get an experience that is transforming retail.

---
This article was as tagged as COVID Retail , Digital Strategy