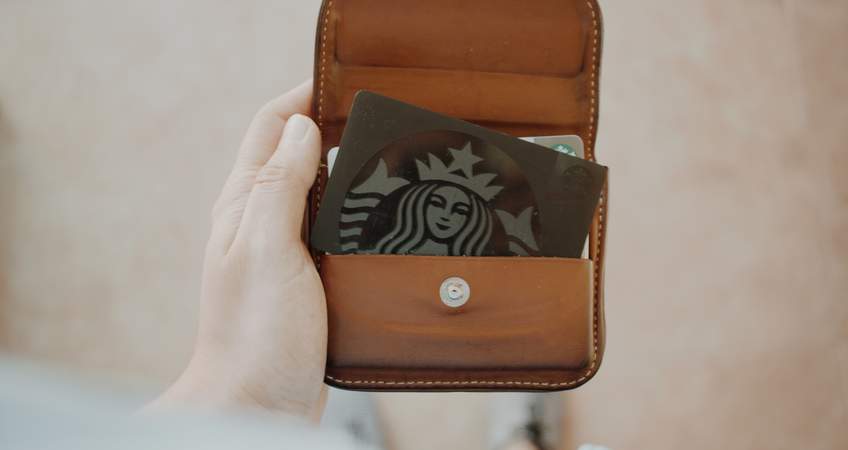 In a world where retailers understand the importance of keeping their existing customers and finding ways to have them come back to purchase repeatedly, the question needs to be asked why do so few invest in getting it loyalty right?
One of the most common responses to this questions comes in the form of, retailers don't know what amazing loyalty programs look like.
In reality, by its true definition, there are few loyalty programs that work for the customer. This is the crux and the reason loyalty program failure is common.
Research has proven there are loyalty programs that are "winning" ("winning" = both the customer and the retailer benefit). This research has also uncovered commonality both in specific business activities and "loyalty program characteristics" that work together to create loyalty programs that are deemed a success: there are 7!
#1. Programs comprise a mix of enhanced experiences and pricing benefits
Loyalty program success rarely comes from programs solely focussed on price benefits.
77% of loyalty programs based only on "transactional behaviours" (earning points from purchasing) commonly fail within two years of launch.
In a survey involving over 28,000 consumers, the top 10 reasons as to why a loyalty program is "great", from the customer's perspective, can be seen in Figure 1…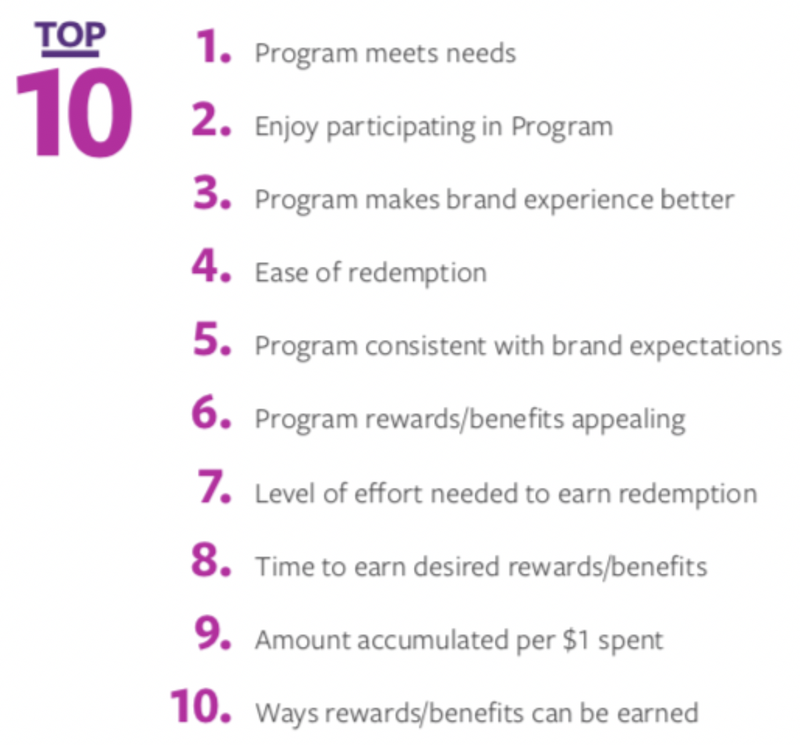 Figure 1

It's a mix of experience and financial rewards, and in fact the top five (above) are experiential in nature.
An article in Forbes says, loyalty programs solely focussing on financial rewards are "marketing programs disguised as loyalty programs".
Many brands are stuck in the old school mindset of creating a points system that forms a representation of "currency" that can be translated to money and/or discounts.
Successful loyalty programs introduce an alternative "experience currency" that 85% consider to be of high value (see Figure 2).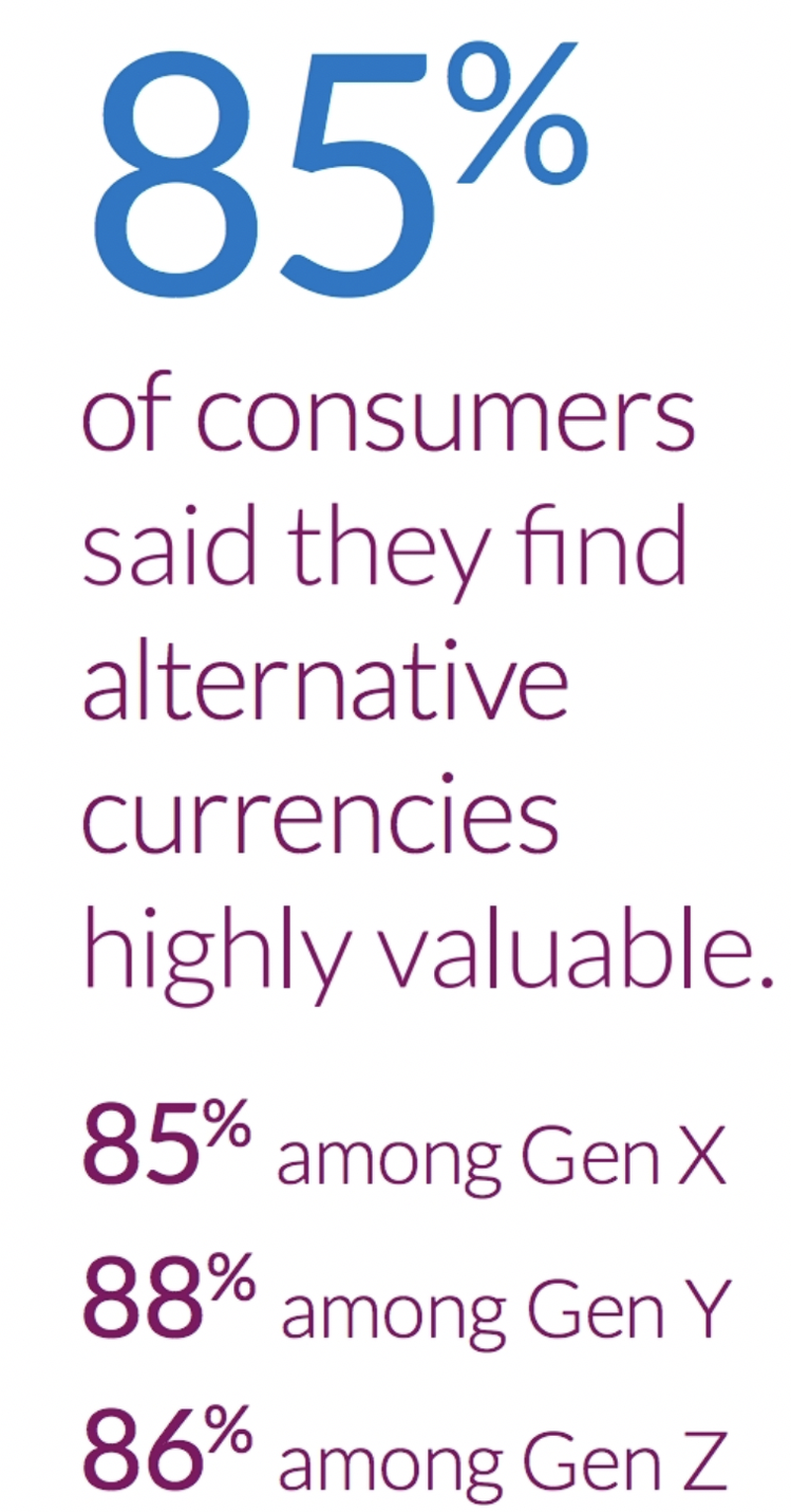 Figure 2
So what do consumer's classify valuable experience currencies to be? While the specific answer will be unique for each retailer, consumers know the outputs or personal benefits they are seeking when engaging in a loyalty program, such as what's shown in Figure 3 below.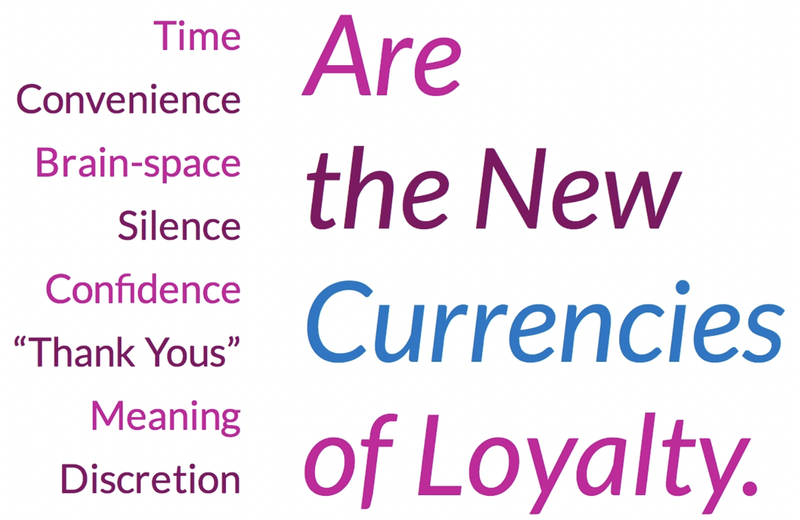 Figure 3
Experience currencies are impactful because the consumer feels like the retailer is listening to his/her needs. It comes down to empathy.
Some specific examples of what loyalty experience activities are proven to add value and align to what is shown in Figure 3 (above)…
1. Making engagement with the retailer easier ("time", "convenience")
2. Offering a new standard of relevant content that is aligned to the consumer's interest ("brain space")
3. Improving/enhancing access to retailer services ("convenience")
4. Delivering relevant offers/promotions ("thank yous")
5. Deliver a higher standard of meaningful experiences ("meaning", "brain space")
6. Simplifying the consumer's life with unique services ("time", "convenience")
7. To make the consumer feel appreciated, special and part of an exclusive community ("thank yous", "discretion")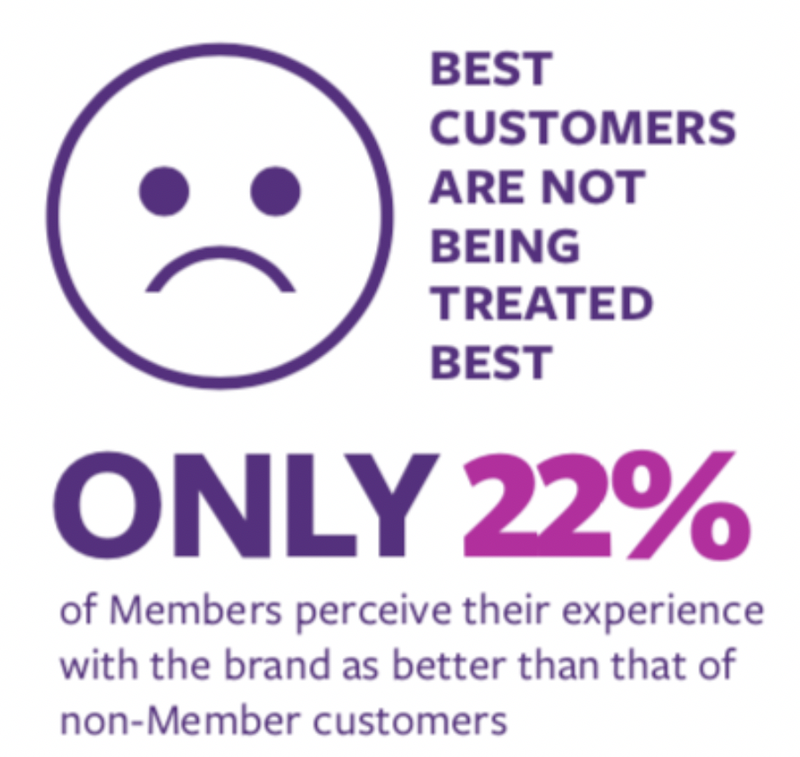 Figure 4
Merely pushing and offering promotion/discount messages is not a sufficient definition of value.

For example if retailers know a "loyal" customer is not going to purchase from them every week, why are promotion messages to loyalty members at such high frequencies?
Statista found 25% of retailers are sending loyalty members between 4 to 8 emails per month.
When customers are told they will receive meaningful information via email and receive a high volume of content that is not to a high standard, the concept of feeling special quickly becomes lost.
Gartner conducted research showing the impacts of email open rates when comparing two subject title types….discount messages (red bar) vs experience offers (green bar). See graph below…
The open rates are far greater when email subject titles comprise experience offers.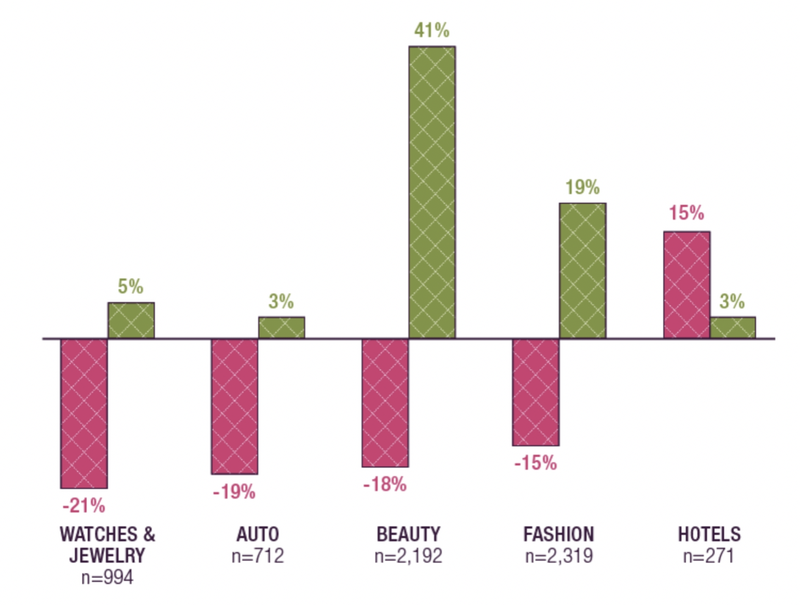 Figure 5
Examples of loyalty programs where the currency relies heavily on enhanced experiences:
Starbucks example:
Starbucks loyalty members use an APP to place a coffee order, pay for the order, access streamed music (third party) and redeem rewards in real time. All in the efforts to embody the brand ethos of "lifestyle enhancement".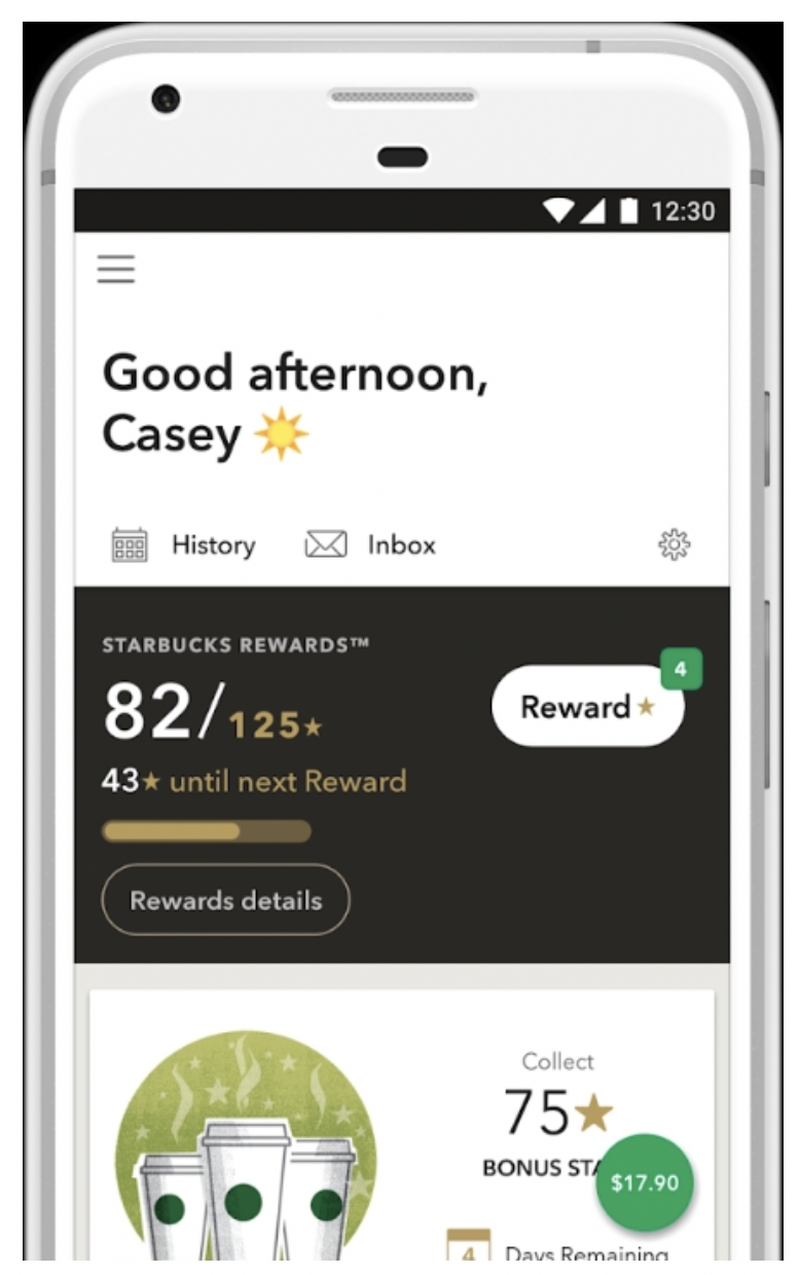 Figure 6

Walgreens example:
The Walgreens loyalty program enables customers to refill prescriptions, monitor the status of their orders, pay using their phone, and earn/redeem rewards.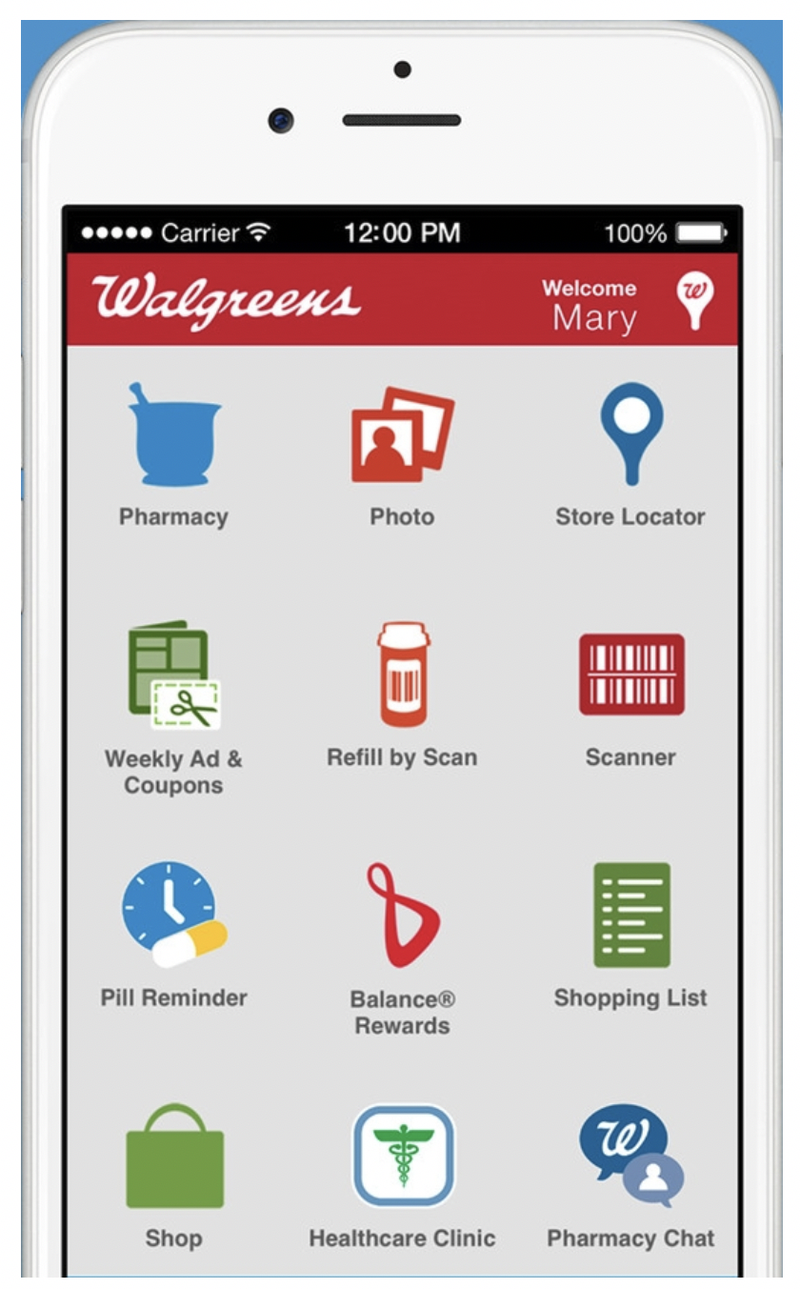 Figure 7

Nike Example:
Nike intentionally steers away from financial rewards.
Members of the Nike loyalty program gain access to meditation services (from a third party APP), free access to music on Apple, and are exposed to various athletic content.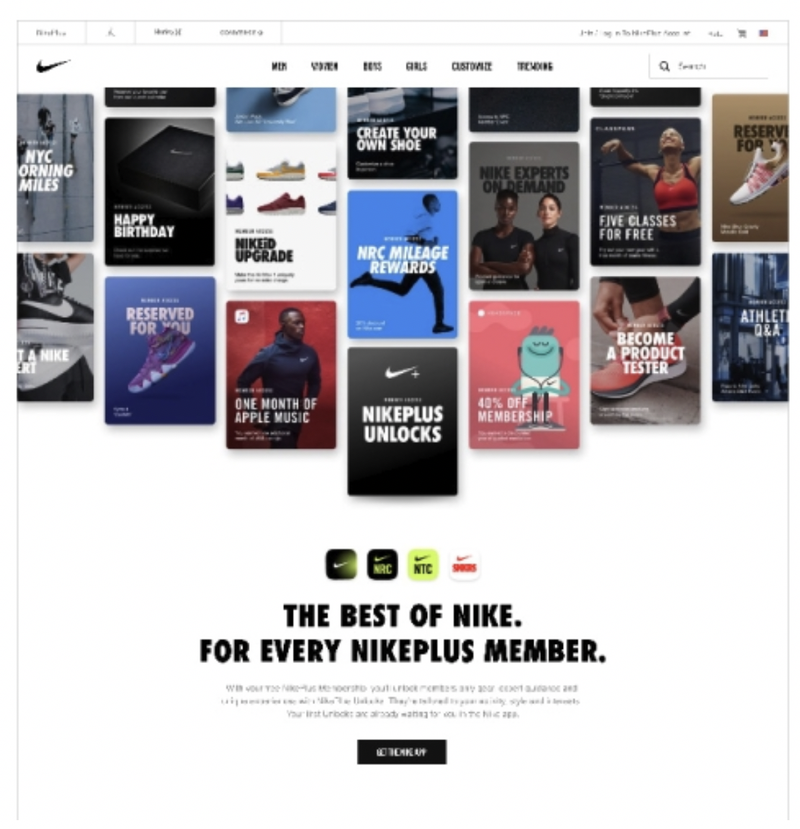 Figure 8

Nike is also about to trial a new APP concept that recognises customers once they enter a Nike store. This recognition will then allow consumers to scan products for availability and pay without waiting in line. This is being trialled in specific regions.
Uber Example:
Uber offers "ride-upgrades" enabling regular passengers the option of a luxury riding experience. While Uber is a disruptor itself, it is cognisant of threats like Lyft, who can take market share if complacency sets in.
#2. "KISS" – keep it super simple
Keep it simple is a continuation of #1 but is a distinct characteristic due to its importance. The ease in which customers can interact and engage with loyalty programs has heavy influence in its success/failure.
For example, the Walgreens example (above) sounds great, however, if the APP was confusing to use, and refilling prescriptions was a clunky experience, very little uptake would result.
Examples of what successful loyalty programs focus on to keep things simple….
Simplify the structure of the program, you don't need to be a mathematician to calculate rewards (points) and benefits.
The activities the customer must undertake to gain points is easy to understand.
The ability for consumers to redeem rewards is easy to understand and apply.
Program status updates are clear and simple.
The APP or "My Account" area elegantly presents all status updates and potential benefits so the customer can check whenever he/she wishes.
The retailer can easily tell the full "loyalty program" value proposition to new and existing members. If the program itself is easy, the ability to communicate it and prompt more members to sign up also becomes easy.
Customer experience design specialists are required to ensure all aspects of digital loyalty engagement are intuitive and easy, specifically for smartphone screens where most loyalty programs drive engagement.
Successful loyalty programs are driven digitally. Both the Starbucks and Walgreens examples enable their loyalty programs through digital tools (APPs) to enhance physical experiences. Loyalty for bricks and mortar, as a business function, can and does become competitive advantage against online-only threats.
The research shows 57% of US consumers want to engage in loyalty programs on smartphone screens.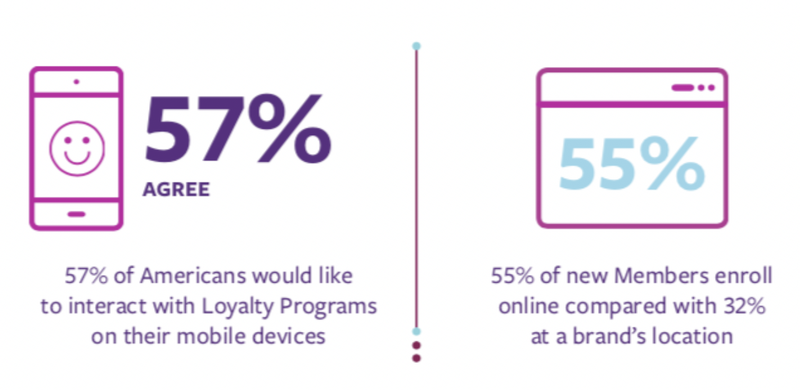 Figure 9
Though APPs are being referenced and used as examples, the point to make here is to digitally enable loyalty. APP development is expensive and high risk. The ideal place to start is to leverage the existing site and do more with it along with other digital tools such as email.
One example of this in action is Air New Zealand who communicates member status via email. While their points system is not always clear due to so many ways to gather points, regular emails update customers on their status and what they need to do to either gain a higher level or attain an existing level.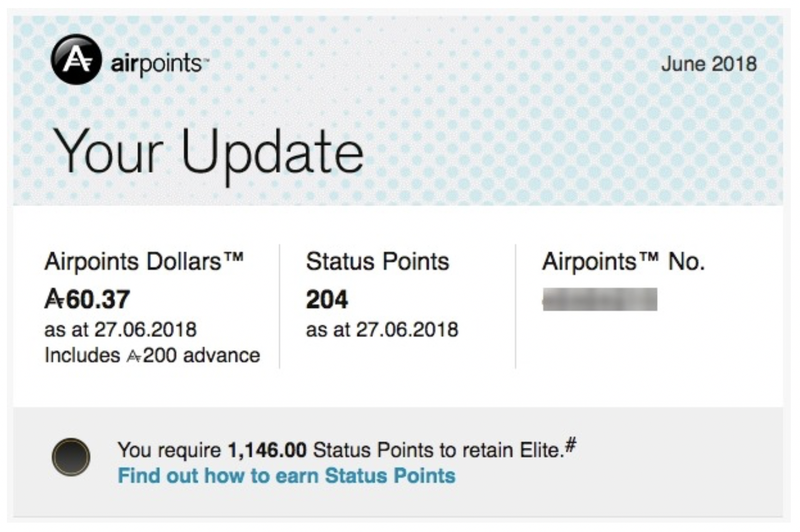 Figure 10

#3. Ask customers what they want
Retailers who are winning are those who simply ask their customers what they want in a loyalty program.
These organisations conduct a process mixing quantitative and qualitative data, and from this, comes a series of assumptions of what "value" looks like from the customer perspective. These assumptions are then tested by surveying segments of their database.
One example of this in action is DSW (Design Shoe Warehouse) in the US, who surveyed thousands in their database to see what they wanted in a loyalty program.
In the process found an unexpected customer characteristic… many of their female customers have shoes greater than 12 years old.
This outcome was turned into a member benefit. Members could bring their old shoes into a DSW store, donate them, and receive points that can go towards the purchase of a new pair.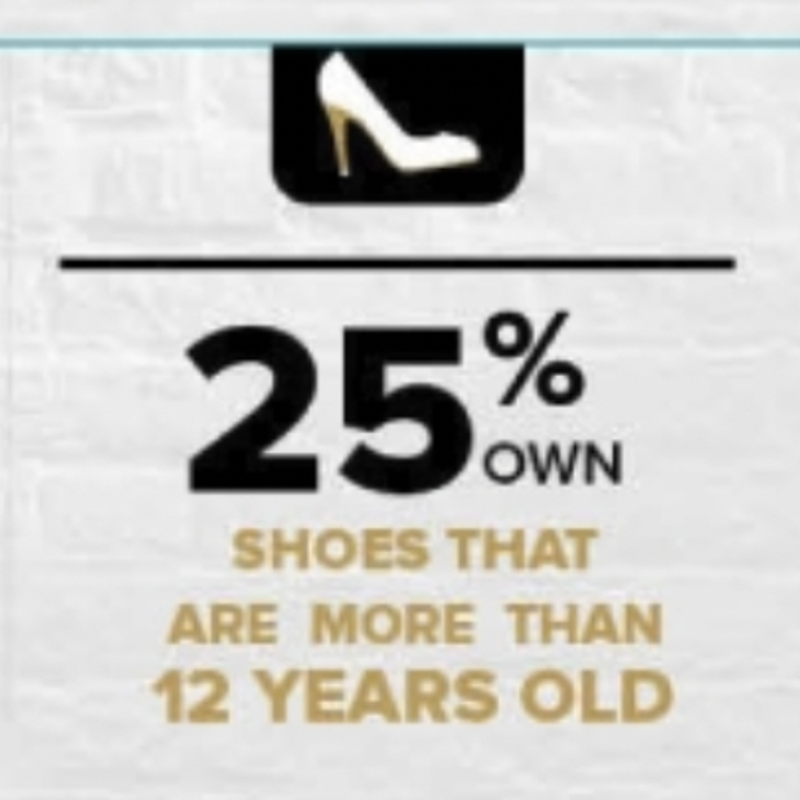 Figure 11

While this does not appear to be a direct tactic to drive sales, this membership perk…

Frees up room in the shoe closet
Creates goodwill
Brings customers back in to stores
And shows members the retailer is listening
#4. Don't pressure customers for volumes of personal information on initial sign up
While the above statistics state consumers are open to giving their information, this happens only once trust is built.
And is why when loyalty programs require too much information in the beginning, it puts consumers off.
Successful retailers structure the loyalty program in a way where consumers can easily join and immediately benefit with little information input.
However, once they join, the retailers execute creative and subtle prompts in the efforts to gather more personal information over time.
Lululemon is a good example of this in action. The customer provides a very limited set of information to become a member. This retailer then "gamifies" the process of profile completion, and creates a customer "status" to encourage the behaviour of providing more personal information (see Figure 12).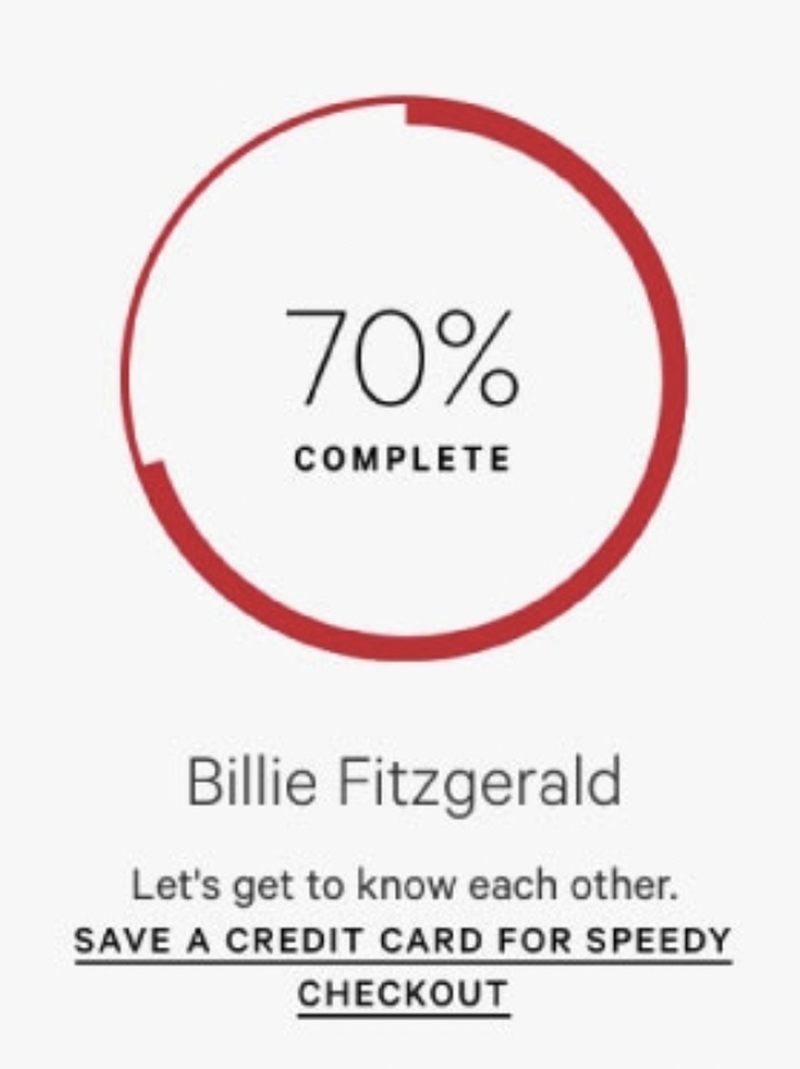 Figure 12
Lululemon uses friendly terminology ("Let's be friends with benefits") to not appear to be pushy and they present what the benefits look like if more information is submitted to the retailer.

Figure 13
#5. Don't initially create a loyalty program for everyone
Successful loyalty programs embrace the notion,there is no singular loyalty scheme for every customer.
Don't think for a moment, a loyalty program is the next "Amazon Prime"!
Those retailers who are successful now, did not try to initially satisfy everyone. These retailers identified their loyal customers and worked hard to please them first.
They undertook a process of identifying a core segment of the database who would see value in various "currency" types: time, convenience etc…
Once the loyalty program proved to add customer value and business benefit, it is then incrementally released to a wider targeted audience.
#6. Data Gathering
The successful retailers recognise the value gained from the data coming from loyalty programs, specifically the behaviours of existing returning customers.
So much so, even though the numbers may not stack up and the loyalty program is not highly profitable, these retailers harness the data they are gathering and apply it throughout the business.
87% of consumers embrace the notion of being watched on the caveat this monitoring results in improved experiences in the future.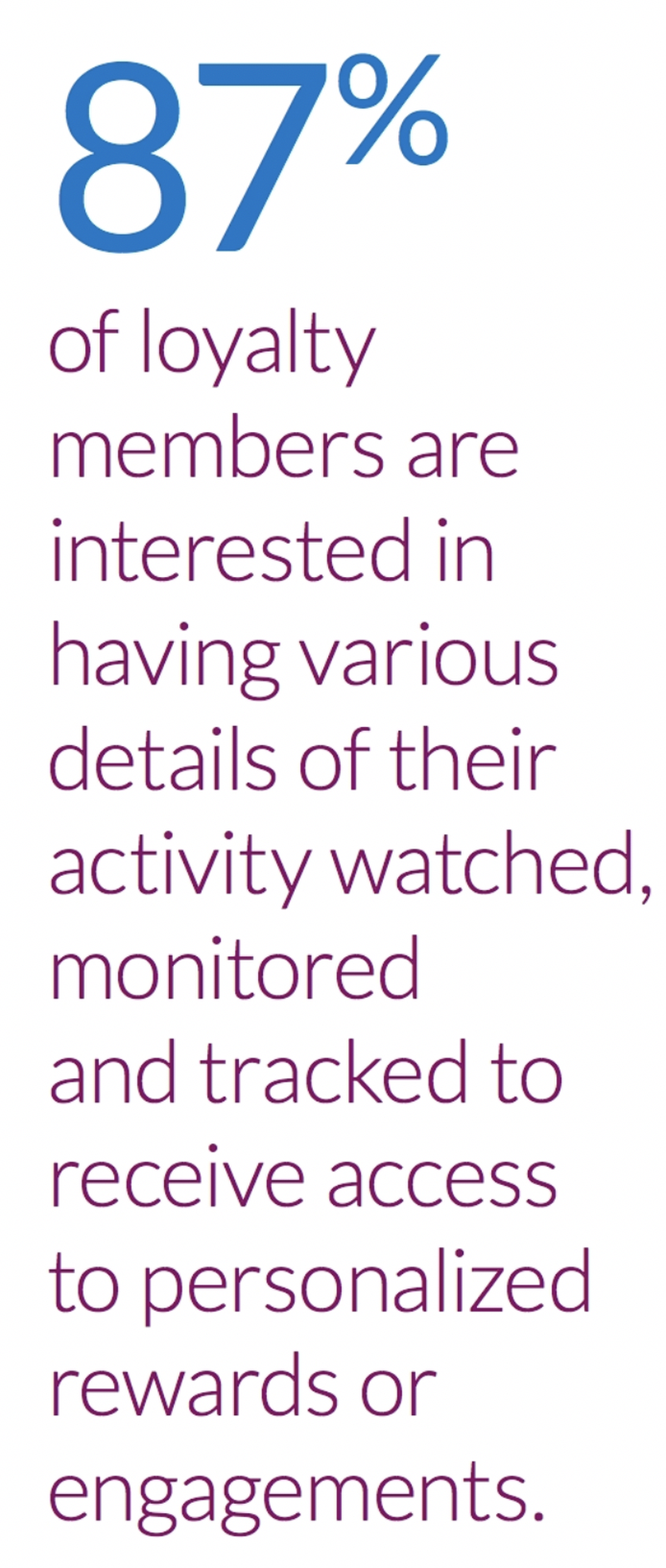 Figure 14
While 87% may appear to be high, this percentage rises to 88% among households with children, 91% among the under 30 cohort, and 94% among the affluent.
While this data gathering characteristic can help improve existing loyalty programs, the real value comes by it delivering insights organisations can use to identify and acquire new customers who fit specific profiles.
The customer profiling that occurs within loyalty program development are hypotheses that can be verified with data which can then be used to create content and experiences to acquire more of the same.
This activity supports the wider business customer acquisition strategy and can thus reduce the cost of acquiring.
Lancome example:
Lancome has a robust loyalty measurement system in place. At one point, the data identified a segment of the loyalty database where purchasing in store had not occurred for a set period of time, which they consider to be out of "character".
Lancome created a campaign offering reward incentives to prompt these members to explain why they have not purchased in store. This (of course) is all constructed in the hopes it will reignite the relationship and since the questions are relevant to a customer behaviour, it feels personal and sets the tone Lancome wants to listen.
Figure 15 below, is the email that was sent out.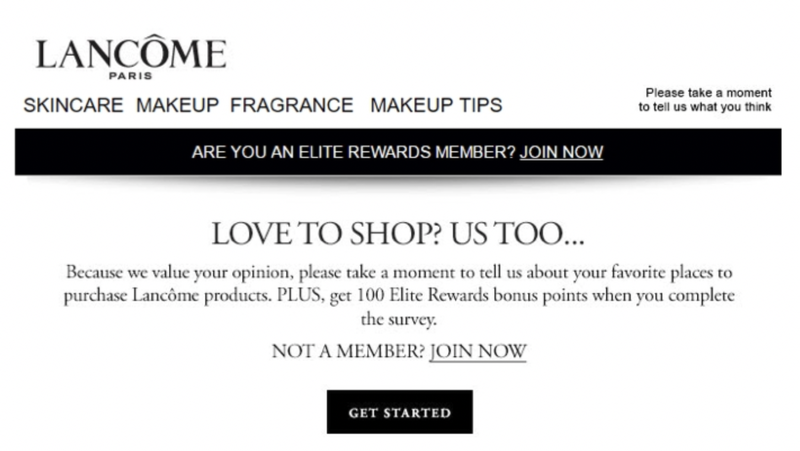 Figure 15
#7 "Pretotyping – testing new loyalty experiences"
Successful retailers conduct "test pilots" when introducing a new loyalty program or variations of an existing program. These pilots are made available to a small segment of the targeted database to test impacts.
Retailers don't necessarily need to build a program to test its viability and popularity. The successful loyalty programs first create the concept of a program and then test the concept.
Where prototyping is the initial creation of something for actual behavioural testing, "pretotyping" is the step before.
This concept trialing allows retailers to come up with a variation of ideas and not be forced down a certain path due to committed investment.
Walmart is a good example of where "pretotyping" would have been a valuable cost and time saving step.
Walmart Example:
In early 2018 Walmart introduced a "Amazon Prime" equivalent known as "Shipping Pass", offering customers free two-day shipping services at a cost for members. Walmart created the infrastructure and offered it to a segment of their database. The response to this loyalty offer was not favourable.
Walmart found the benefits they offered within the "Shipping Pass" program was nothing exceptionally special (faster shipping), there was no perceived value. Customers perceived these "benefits" to be a "standard service" that should always be available.
This same conclusion could have been uncovered in a "pretotyping" process.
Conclusion
To understand the benefits of loyalty is easy, to get loyalty right is hard. Retailers need to listen and develop a higher degree of empathy in order for loyalty programs to add value.

While the cost of creating and perfecting a loyalty program may appear to be prohibitive, think about a business model where the reliance on business growth is always on new customer acquisition.
81% of consumers surveyed say they are more likely to repurchase from a brand with a great loyalty program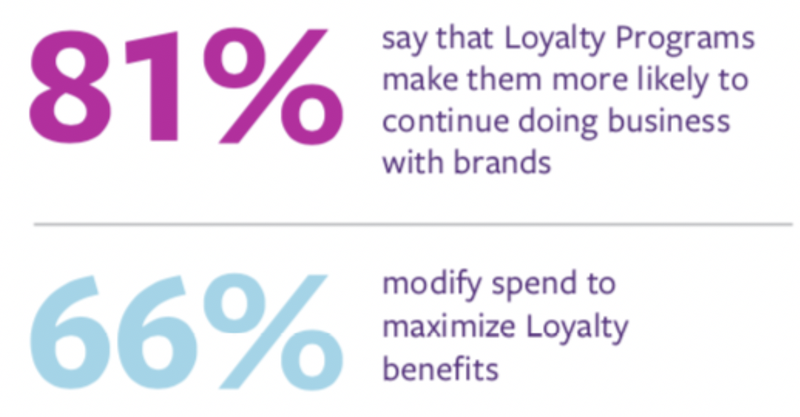 Figure 16
In a world where today's consumer has more loyalty to his/her own need and demands to be in complete control of his/her information gathering and buying destiny, these two statistics are significant.
Forbes says the "empowered consumer" is no longer easily influenced by brand equity and traditional advertising tactics. Consumers engage with brands because they want to.
On top of influencing consumers intent driven behaviours, 73% say they will tell others about their great loyalty experiences.

This vocalised peer review is still a strong influencers in who consumers decided to engage with. Research on peer pressure was conducted in June 2017 and had this to say in its concluding statements…

Peer pressure impacts on our daily lives and can least be ignored. Its influence as a pressure has become a prerequisite for the word itself to hold meaning.
Peer pressure persuades, pushes and multiplies the level and frequency making it act as a catalyst to purchase.
Now think about your competitors? How well do they conduct loyalty initiatives? Is this an opportunity to develop competitive advantage?
Don't be deterred by the ubiquity of loyalty programs. They may be everywhere, but only a select few are getting it right.
---
This article was as tagged as