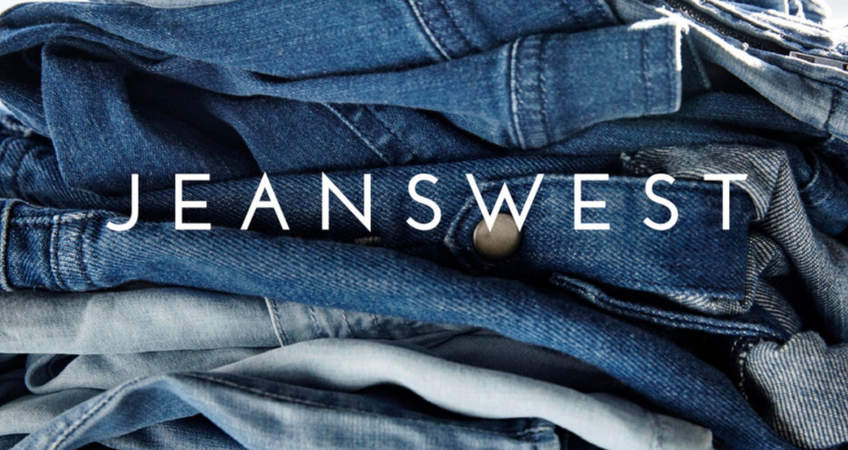 Jeanswest has recently announced they are in trouble. It's never great to hear of any organisation going through this potential end of life, however, when this happens, other organisations should pause and take the opportunity to check oneself.
This is done by understanding what happened to the failing organisation to determine if similar business characteristics exist. And if there are, leap into action to make corrections so as not to share the same fate.
This is the purpose of this article, to help others understand the business characteristics which contributed to placing Jeanswest in the situation they are in today.
The focus of this assessment is on the Jeanswest online channel for two reasons…
Reason #1. Business wide growth stems from harnessing the power and influence of the digital channel, specifically, working to improve and enhance online experiences. New research from Econsultancy and Adobe's "Experience Index: 2020 Digital Trends" report confirms...
Global companies leading in customer experience are three times more likely than their peers to have significantly exceeded their 2019 business goals
Reason #2. KPMG (Jeanswest voluntary administrators) made the following statement in the press last week…

"Like many other retailers, the business has been challenged by current tough market conditions and pressure from online competition"
Every business is continuously under tough market conditions, it's the second part of the quote which is of high interest and requires unpacking: "pressure from online competition". There are a number of issues with this part of the statement.
The "pressure" on Jeanswest - where is it coming from?
After completing an "customer experience audit" on Jeanswest, the standard of online experiences from this retailer is low.
The ripple effect of offering poor experiences is substantial and influences the entire business both online and off. Though KPMG suggests the pressure is coming from competitors, in fact Jeanswest is applying the pressure upon itself by not delivering a high standard of engaging online experiences.
Some examples as to the "pressure ripple effects" a business will feel as a result…
Low conversion rates - there is a correlation between meaningful engagement and online buying behaviours
Less likely customers will remain loyal - there is a correlation between meaningful engagement and retention
Retailers become too reliant on discount driven offers because that is the only way consumers will endure poor online experiences - to capitalise on deals
The cost of acquiring a new customer is high because consumers are being sent to a poorly performing "online salesperson" (this results in a low ROI for marketing investment)
Email marketing is less effective because the traffic from these campaigns are also being sent to a poorly performing "online salesperson"
The online channel becomes less effective in driving foot traffic into stores – research proves there is a correlation between great online experiences and driving foot traffic into physical store locations
To further illustrate and prove how the issue is less to do with the competition (as suggested by KPMG) and more to do with Jeanswest's inability to offer amazing online experiences, there are two proof points explained in detail below, these are…

The consumer demand in Australia for "Women's Jeans" terms
One example of the findings from the Jeanswest experience design audit – analysing filter experiences
Consumer Demand in Australia:
Analysing the types of searches occurring in Australia sheds light on the nature of consumer sentiment and the competitive landscape that exists.
The research was conducted for the Australian region for "womens jeans" terms only.
The research shows the consumer search trends are dominated by two search themes in the context of "women's jeans"….
Style search types: "ripped jeans", "high waisted jeans", "flare jeans" etc…
Colour search types: "black jeans", "white jeans"
When analysing the next layer of search types down beyond these two themes, there is also third theme which also stands out: a high volume of style and colour search types combined ("black high waisted jeans").
Conservatively speaking, there is over 100k searches per month in Australia for these three themes.
What is noticeably absent when conducting this research was the presence of retail brand terms. This is not to say there is no demand for other competitors, the point here is, there is significant volume of needs driven searches.
This is consistent with research conducted by Google where they state, when consumers are in that moment of need, they have greater loyalty to their own need than a retail brand.
Because people are more loyal to their need in the moment than to any particular brand. Case in point: 65% of smartphone users agree that when conducting a search on their smartphones, they look for the most relevant information regardless of the company providing the information.

So while Jeanswest representatives state this retailer is struggling as a result of "pressure from online competition" this is in fact not the case in the context of what consumers are actually looking for when she has a need to be fulfilled.

This leads us to the second reason Jeanswest is in trouble: their inability to create amazing online experiences.
Experience design flaws (findings from the audit):
In order for consumers to gain confidence when they are engaging online, retailers must achieve very high standards in the fundamentals of experience design. In other words, to create amazing online experiences retailers must achieve many things to a high standard.
Below is a high level summary of some of the big things retailers need to focus on…
Deliver informative and engaging content to assist consumers with his/her information gathering process
Have eCommerce functionality operate in a way where it's easy and intuitive for consumers to engage with content
Enable employees to be easily accessible when consumers are engaging online with the retailer
Delivery easy and intuitive checkout experiences
Offer and execute support services which appear easy and effortless from the consumer's perspective (returns)
All online experiences are treated uniquely by device
Jeanswest underperforms specifically in points 1, 2, 4, and 6 (points 3 and 5, support services and employee accessibility, was not audited, so there are no facts to verify conduct at this stage). To illustrate this statement of underperformance, one example is explained below in detail: filtering experiences.
Why analyse filtering experiences?
Upon reviewing data of over 100 million consumer paths/journeys from online retailers around the world, on average, 50% of those pages being viewed (and engaged with) are sub category page types.
And because sub category pages are where filters are located, if filtering experiences are to a low standard, it affects a large percentage of consumers who are trying to engage with a retailer.
This research also identified when consumers had good filtering experiences, the conversation rates conservatively doubled. Getting this one aspect of an experience design wrong has significant negative impacts on online experiences, and if retailers get it right, it adds full percentage points to a retailer's online conversion rate.
The filtering experience (below) is done on the smartphone screens due to the dominance of this device type.
Jeanswest Filtering Experiences – on smartphone screens:
When consumers land on the Women's Jeans category they are presented with what's shown in Figure 1 below.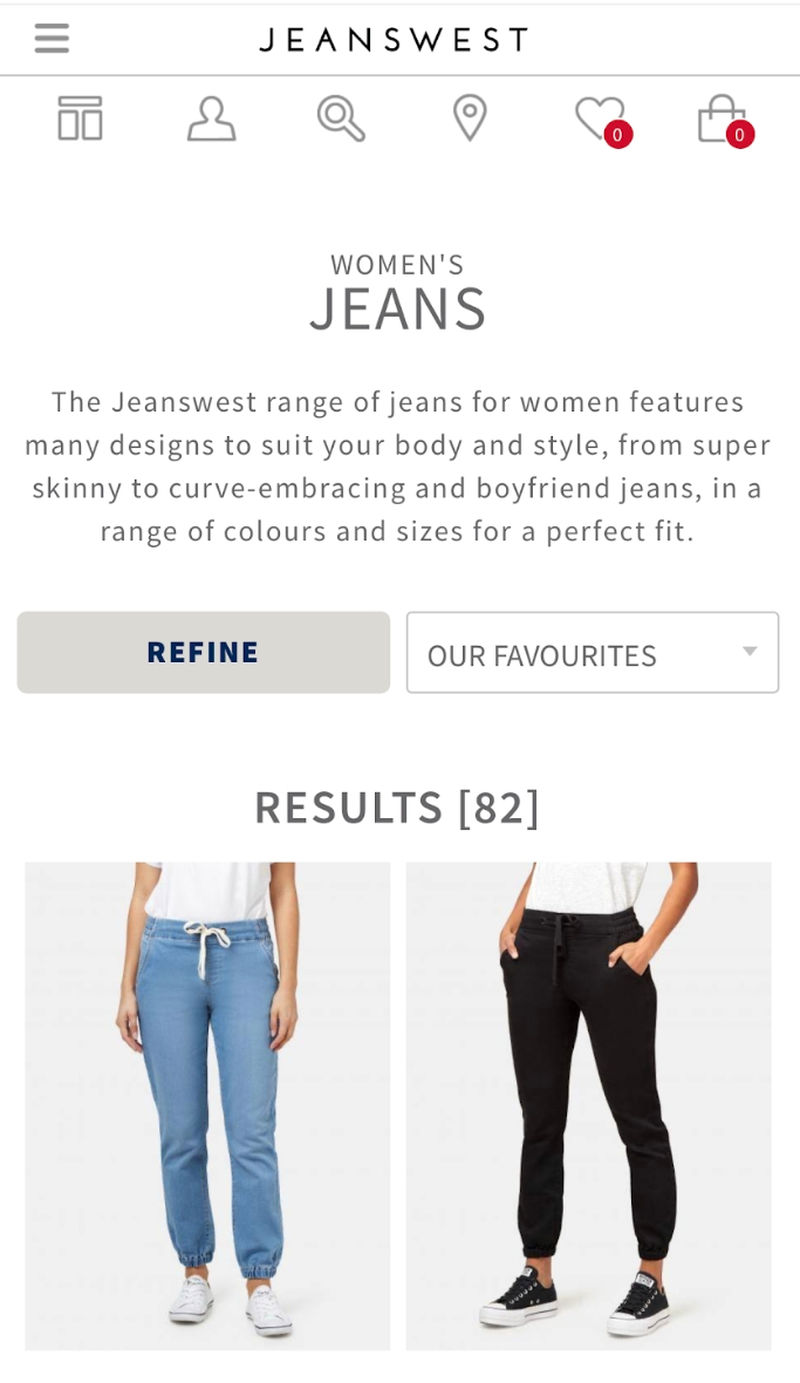 Figure 1
Consumers are presented with...
Irrelevant generic content on jeans which pushes other more important content down the page (product content)
A strong title ("Women's Jeans")
A strong "Refine" element
"Our favourites" sorting element (which means nothing to a consumer without context)
A "Results [82]" element explaining the number of products within the category (which is good to set expectation)
When consumers select "Refine" they are presented with what's shown in Figure 2 (below).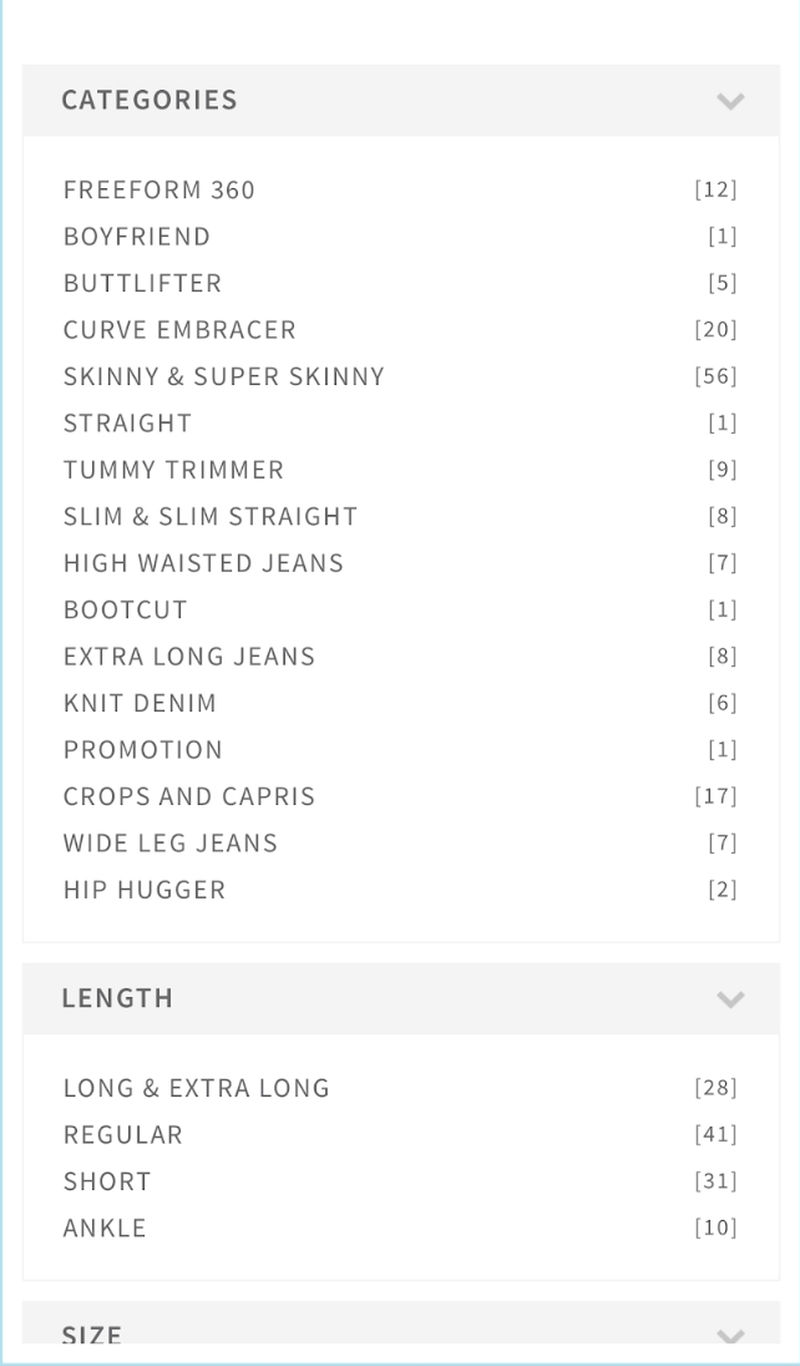 Figure 2

The manner in which these elements are presented comprise a number of issues…
Each filter type is too close together risking an incorrect finger selection
The font colour is light and should be darker to accommodate bright lighting environments (common for smartphone screens)
There are no visual cues such as a "tick box" to prompt the tapping/selection behaviour to activate a filter
The full presentation of all filters hide and push down relevant filtering options below the fold, the consumer cannot see the " Colour" filter options below
Once a consumer selects one of these filters they are immediately taken back to the "Women's Jeans" category. This is a mechanical issue with the eCommerce technology. Consumers should be given the chance to make multiple selections within this filtering screen and then be given a call to action called "Apply" to activate multiple filters.
By assuming the consumer only wants to make one filter selection is dangerous and makes more unnecessary work for the consumer because she needs to go back into this screen to make another selection. Increasing this type of effort is known as increasing a consumer's "interaction cost".
Based on the consumer demand research there was evidence of the high volume of colour and style searches, this suggests consumers would commonly apply multiple filters to meet their specific needs: "black high waisted jeans".
Also, the high incidence of colour searches suggests this would be a popular filter. Jeanswest could increase filter engagement by improving the visibility of the "Colour" filter in this screen.
When the consumer is taken back to the category after selecting one filter, they are presented with what's shown in Figure 3 below.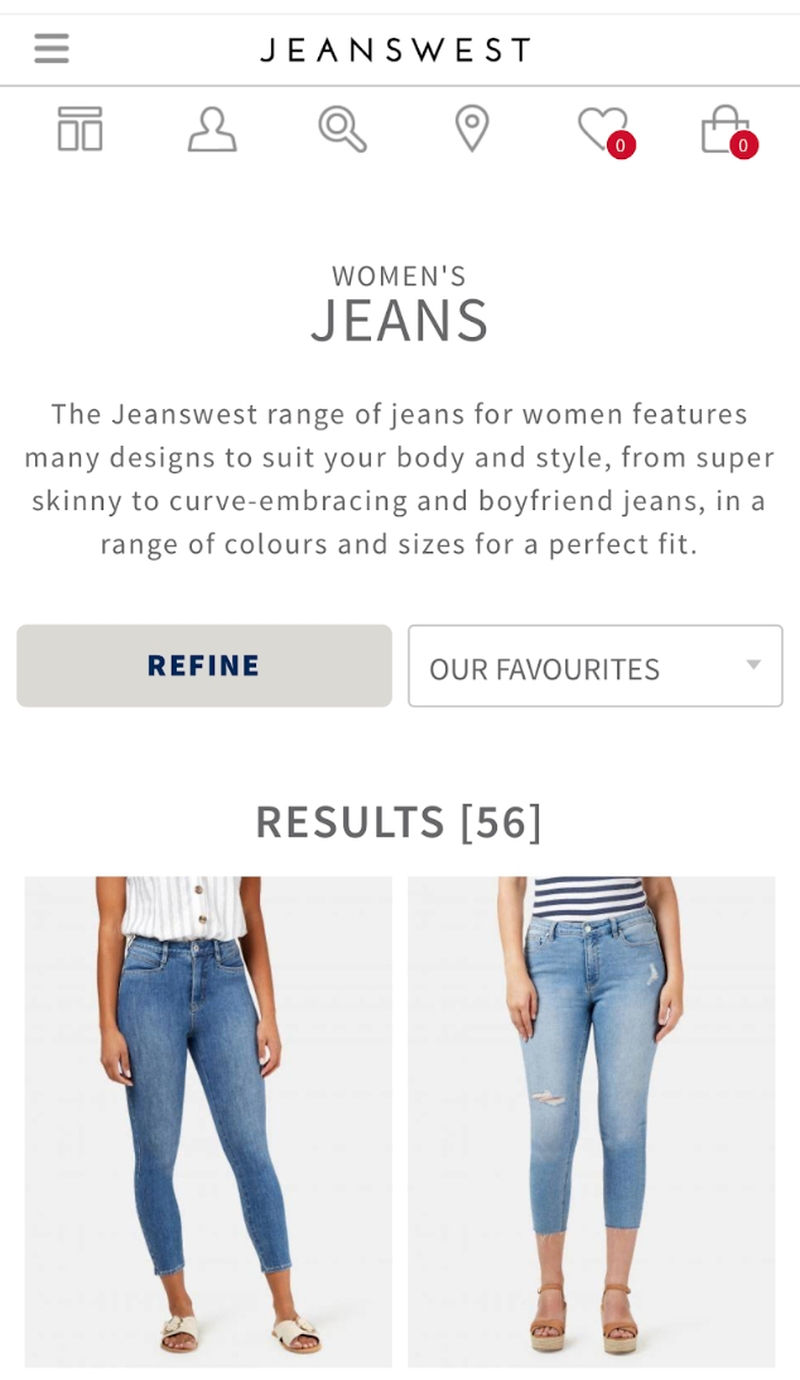 Figure 3

During this review, the "Skinny and Super Skinny" filter was selected. Once the consumer is forcibly brought back to the Women's Jeans sub category page, (shown in Figure 3 above) there are no visual cues to suggest the "Skinny and Super Skinny" filter has been activated.
How does the consumer know they are only looking at a selection of skinny jeans?
One of the basic principles on experience design is presenting visual cues which clearly informs the consumer the system has acknowledged and activated a specific selection of any kind ("the system" = the eCommerce technology).
This is known as "system status".
An example of "system status" in everyday life is using the speedometer in a car. You continuously refer to the speedometer to decide if you need to speed up or slow down. Those who have driven a car where the speedometer was broken can attest to the fact it's quite difficult. The impacts to experiences online and the need for "status updates" is no different.
The only change seen in Figure 3 is the "Results" count has changed, but not many consumers would notice this subtle change.
This absence in visual validation (no system update) creates "mental effort" (also known as "cognitive load") for consumers.
If consumers wish to now go back to the filter screen to either adjust their selection, verify their selection has worked (as mentioned above, due to the confusion of no visual update) or make another selection, when they again select "Refine", they are taken back to the filter screen and presented with what's shown in Figure 4 below).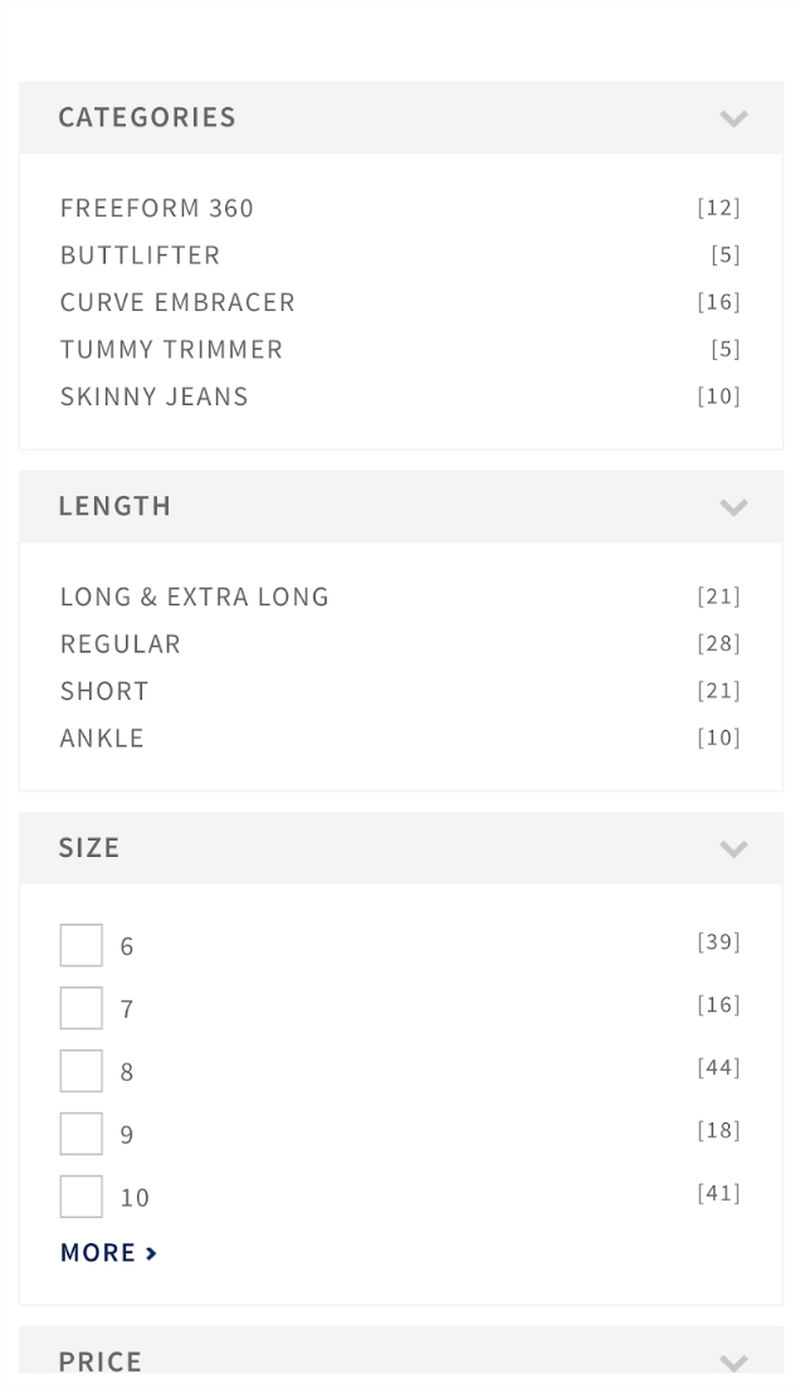 Figure 4

There are three significant issues with what's being presented in Figure 4…
There is no visual validation for the "Skinny and Super Skinny" filter being selected – in fact this filter option has disappeared – this will heighten confusion
The absence of the "Skinny and Super Skinny" filter prevents a consumer to de select this filter option – simple "deselection experiences" are crucial to online experiences
The filters the consumer viewed previously (seen in Figure 2) has now changed
The filter design and mechanics ("mechanics" = eCommerce logic) is constructed in a way that suggest consumers conduct the right filter selection the first time and they don't return to make changes. This is not real life; de selecting and changing filters occur continuously throughout journeys.
Conclusion:
The purpose of this article is not to gang up on Jeanswest. However, the issue of blaming competitors for poor online performances is endemic in online retail and it needs to stop.
Competitors are everywhere and increasingly coming from international sources. While it's important to have awareness of these threats, it should not consume business focus.
If a business is prepared to invest in accelerating services and online experiences around the target consumer's needs and wants, it greatly reduces the risk of being in a position Jeanswest finds itself in today.
---
This article was as tagged as Best Practice , Customer Experience Design , Data Driven Decision Making , Digital Strategy