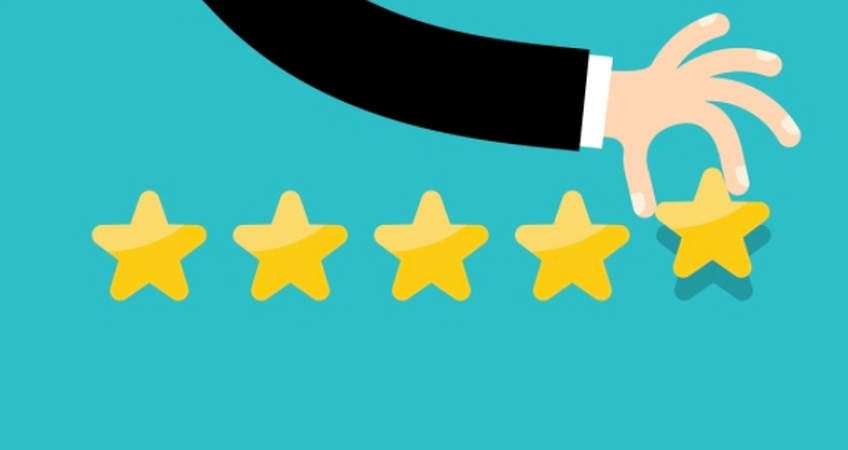 How many times have you visited a site, you head to a product detail page and see the following phrase prominently displayed...
No reviews for this product...be the first to review this product!
In this situation where there are no reviews for a specific product, there are a variety of ways this is presented on product pages: none of which are flattering for the product. Some examples...
Adore Beauty displays "No reviews yet"...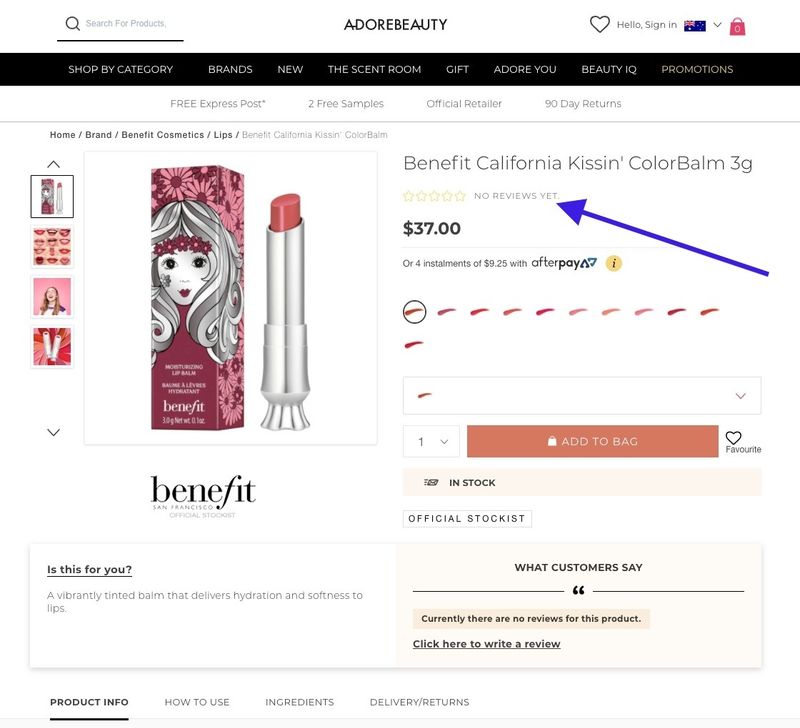 Figure 1
Supercheap Auto displays "Write a review"...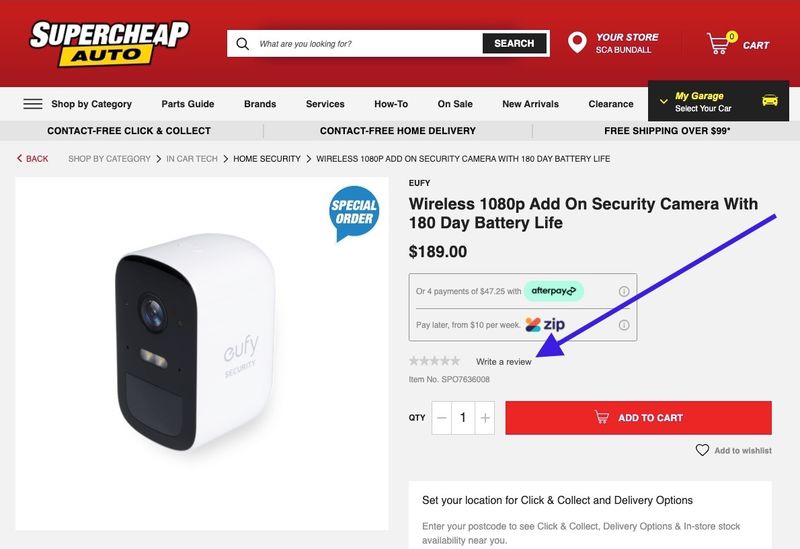 Figure 2
Myer displays "0"...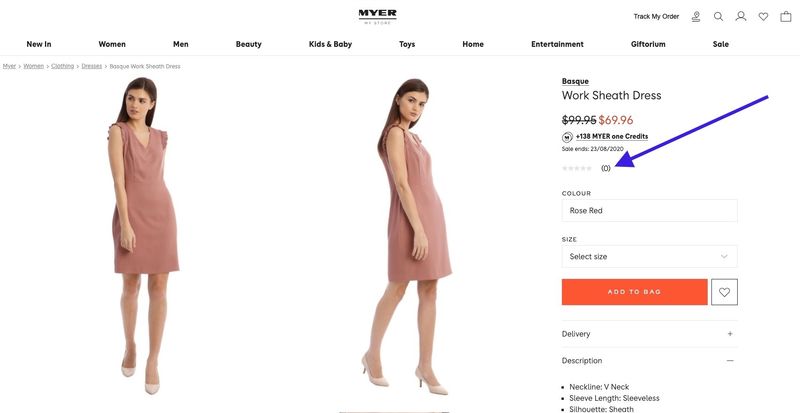 Figure 3
Any presentation on product pages representing no reviews for a product is perceived as a negative for the product from the consumer's perspective. Consumer's feel this product is not special enough for someone else to talk about.
The typical presentation of "Write a review" elements (as seen above on Supercheap Auto) suggests customers who purchased this product will take time out of their busy lives and make the effort to go back to that product page and write a review.
This is not real life.
The truth of the matter is, the above examples of presenting no reviews is an eCommerce technology default presentation.
This brings to light a weakness for those retailers struggling to fill product pages with review content. This is deemed a "weakness" because businesses who are driving this type of content are performing better online than those who don't.
What is the issue and how can it be fixed?
The big questions to answer are...
Why is it important to continue to focus on customer review content?
What should a "review capture" experience look like to acquire a high volume credible reviews?
What is the role of technology and what does it need to do to capture and present this content?
Why is it important to get this right?
The impacts of review content deemed "trustworthy" in the decision making process of consumers remains as significant as ever. The data below proves reviews are a key purchasing influencer.
The data below reflects research done in 2017, as a result of COVID-19 the impacts peer driven content brings to online buying has grown exponentially higher in very recent times.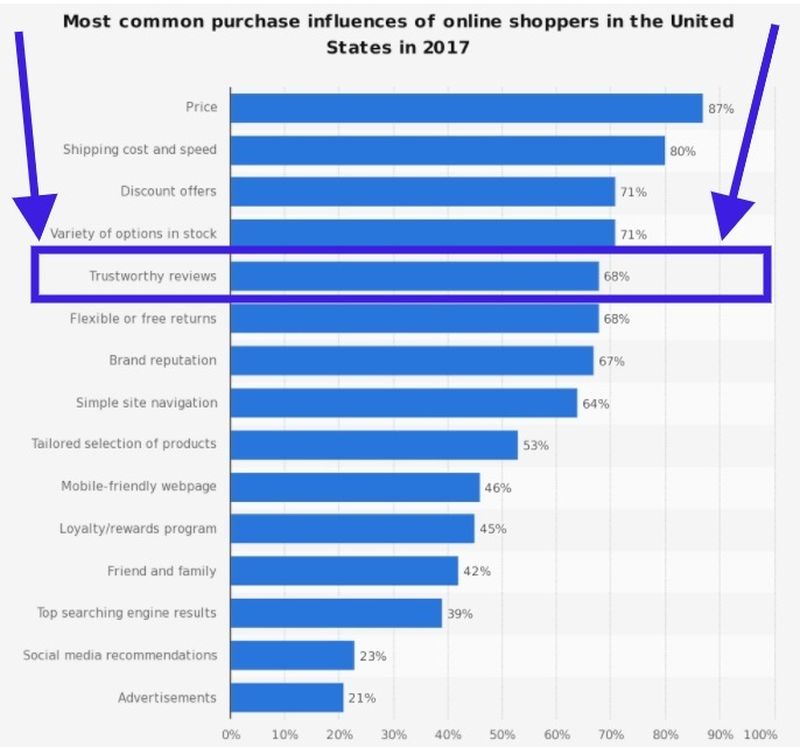 Figure 4
88% of consumers trust online reviews as much as personal recommendations
72% of consumers say positive reviews make them trust businesses more
Millennials trust user-generated content 50% more than other media
It has also been proven that 95% of the consumer decision making process is occurring in the subconscious mind. Consumers fall into a form of "cognitive autopilot" when buying online.
When consumers are in this "cognitive autopilot" they seek out shortcuts to assist in decision making. They are trying to keep the "active brain" from working. Neuroscientists have proven customer review content is a known "autopilot influencer".
This underlines the importance of customer review content and more importantly, designing technology and systems to capture a high volume and high standard of review content and repurpose it in a way to assist the future decision making of others.
The "Review Capture" Experience:
The solution to the "review capture" experience is an easy one: make it as simple as possible for customers. A retailer should feel privileged a customer wishes to exert effort to document a message about a product.
A single review can influence hundreds of purchases in the future. Picture a customer constantly standing in front of product in-store, saying great things about a specific product. That is the physical equivalent to an online customer review. It is within the best interests of a retailer to take the time and investment make this experience easy.
Though the majority of eCommerce platforms around the world are designed to hold customer review content, very few do a great job of the "review capture" experience.
This is why there are successful Customer Review software solutions such as Yotpo in the market.
Some tips on how to simplify this process:
Allow customers to complete the review within the email that is being sent.
Make sure the review process is easy to complete on smartphone screens.
Provide incentives to leave a review.
Make sure the customer knows both good and bad comments are welcome.
Provide guidance on what can be talked about. For example, if its a garment to review, ask the customer for their opinions on the fit and material quality. This is what new customers will be seeking from review content.
Some examples in action:
Figure 5 below is a great example of a review email which enables a customer to complete the entire experience within the email.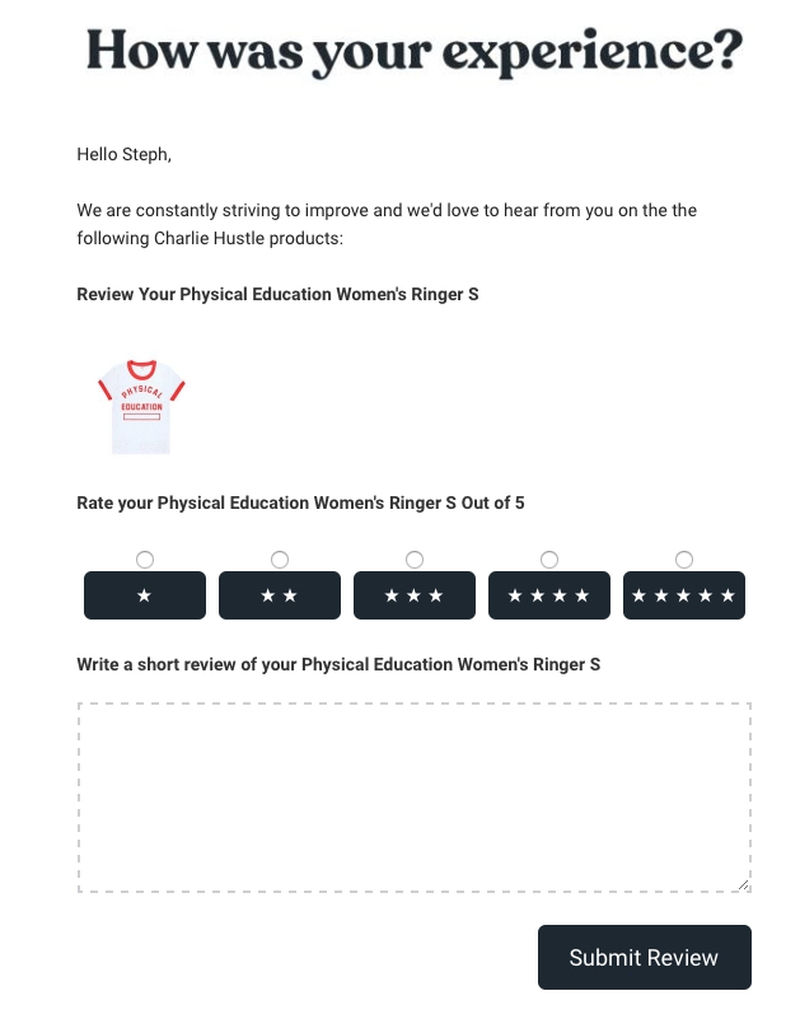 Figure 5
Figure 6 is a great example of a retailer who offers an incentive to prompt this behaviour.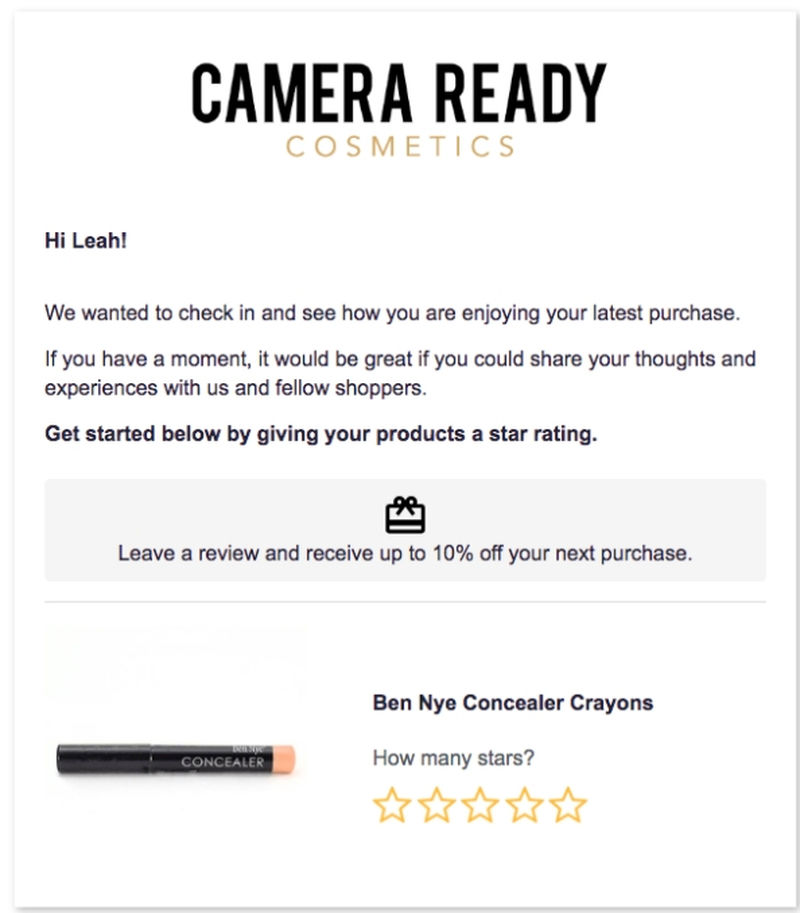 Figure 6
Macy's prompts review behaviours by having their customers enter in a draw to win a big price (see Figure 7 below).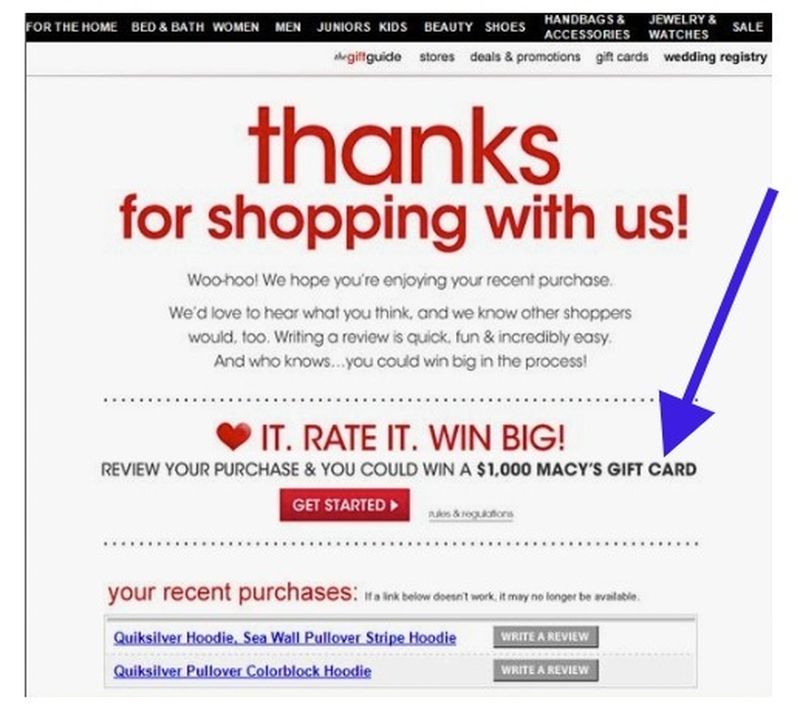 Figure 7

It's important to note, none of the above examples are driven by eCommerce technologies. These emails are powered by either specialist email marketing software or third part customer review technologies.
What technology should be used?
Instead of thinking about the ideal technology, first determine what the experiences need to be, then find the technology (or solution) to deliver on that experiential need.
For example...
The solution needs to be easy for a customer to leave a review on all screen types, mainly smartphones.
If its a third party technology, it needs to elegantly pass all review content to the eCommerce platform so it can be presented and repurposed on product listing pages and product detail pages

This review content should also be passed on to Social assets for repurposing

Once customer review volumes become high on product detail pages, there needs to be methods to enable consumers to easily engage with this content.
Point 3 is important and easily forgotten. There is no point in having this content on product pages if it's not easy to engage with. Because its every goal of a retailer to acquire large volumes of reviews, the technology needs to be equipped to accommodate it in a way that adds value to new consumers.
Adore Beauty was mentioned above when there are no reviews, however, this retailer does a good job when there is a high volume of reviews: see Figure 8 below.
This section of the product detail page summarises all the reviews by star rating and has "Most Helpful" callouts which helps consumers who just want an overview. To improve on this experience, Adore Beauty could add a function enabling consumers to filter reviews by star rating or product comment themes.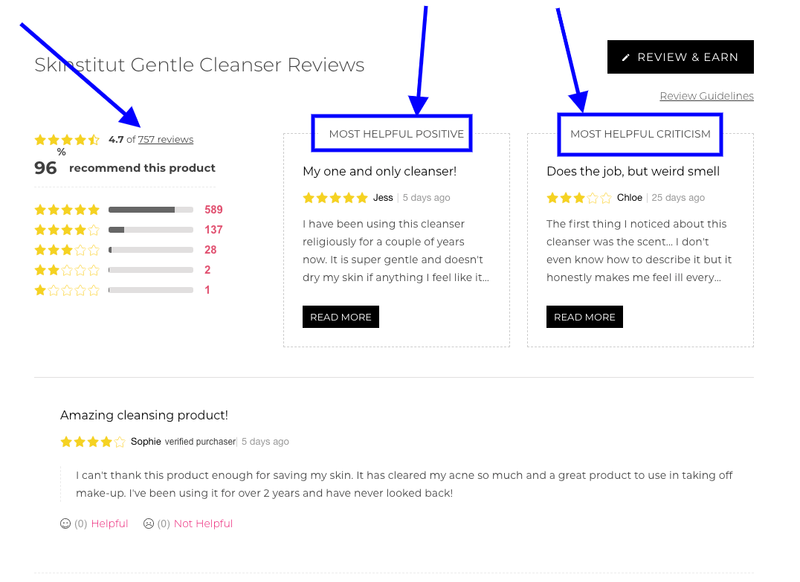 Figure 8
An example of the "Gold Standard" of review engagement can be seen in Best Buy in the US: see Figure 9 below. The product below has over 4,000 reviews and not only can consumers see the breakdown in star ratings, but they can filter by "Pros" and "Cons". These filters are based on mentions from the reviews of previous customers making this method of refinement valuable for those considering this product.

Figure 9

So while it would be daunting to try to work through 4,000 reviews, if one of these filters are of value to someone, they can instantly reduce the volume.
The key takeaway from this article is, just because you have a "Customer Review" function currently working on your site, does not mean its adding value to existing customers (to acquire a new review) and new target consumers (to engage with the review).
The recommendation is to conduct an end-to-end audit on the entire experience and look at it from the perspective of these two types of people: existing customer and new consumer.
Once you can see the experience through their eyes, create a narrative that describes what the experience should look like. Once you have this, you approach your technology vendors and tell them what this experience needs to look like and call out the gaps. If the existing technology (or technologies) cannot meet the needs of your customer and new consumer, it's time to consider a new solution.
---
This article was as tagged as Best Practice , Customer Experience Design , SEO