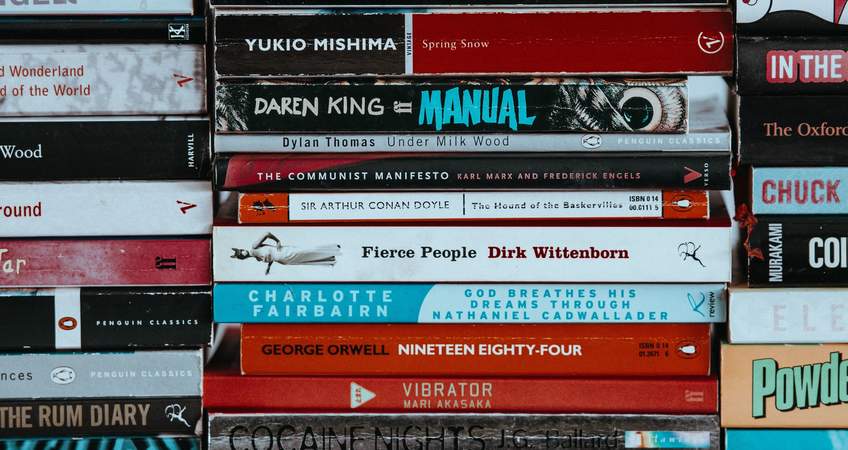 When it comes time to lead change for the purpose of driving the online revenue performance to new heights, there are hundreds of changes that need to occur. This is normal.
In this change process there are many points of resistance, but one of the more common comes in the form of challenging product naming convention: what the business names a product and the process of product naming.
The change normally involves the act of moving from simple "stylish" names and evolving to descriptive titles that mean something to the consumer.
In the "old days" the product naming process was driven by the bullish opinions of internal buying/design and management teams. The future is to introduce a carefully researched product title that is born from departmental collaboration.

For most retailers, and in particular, fashion conscious brands, this approach is unpopular. They see wordy titles that make their category and product pages look "messy" which goes against the values of their brand.
This is a subjective and internalised view. Brands regularly forget their "brand" is defined by the experiences they now deliver.
As a result of this constant resistance and the lack of appreciation this change brings, this article calls out and explains the value descriptive product titles delivers to consumer experiences.
If it benefits consumer experiences, it will ultimately benefit the retailer/brand.
1. Introduces product context at the sub category level
One of the behaviours a retailer wants to reduce is the process of "pogo sticking". This is where consumers are moving from sub category page to product page and back again. This is essentially repetitive "back step" behaviour which quickly results in consumer information-gathering fatigue.
One of the best practice activities that can be undertaken to reduce this behaviour is to provide more context to the product at the sub category level.
Descriptive product titles achieves this.
Long product titles makes it easy for the consumer to know what to expect when they click on the URL
Catchy and descriptive titles can significantly increase the number of clicks on products
As can be seen in the example from John Lewis (below), consumers can immediately gain context to the product simply by reading the product titles of the camera products without the need to move in and out of product detail level.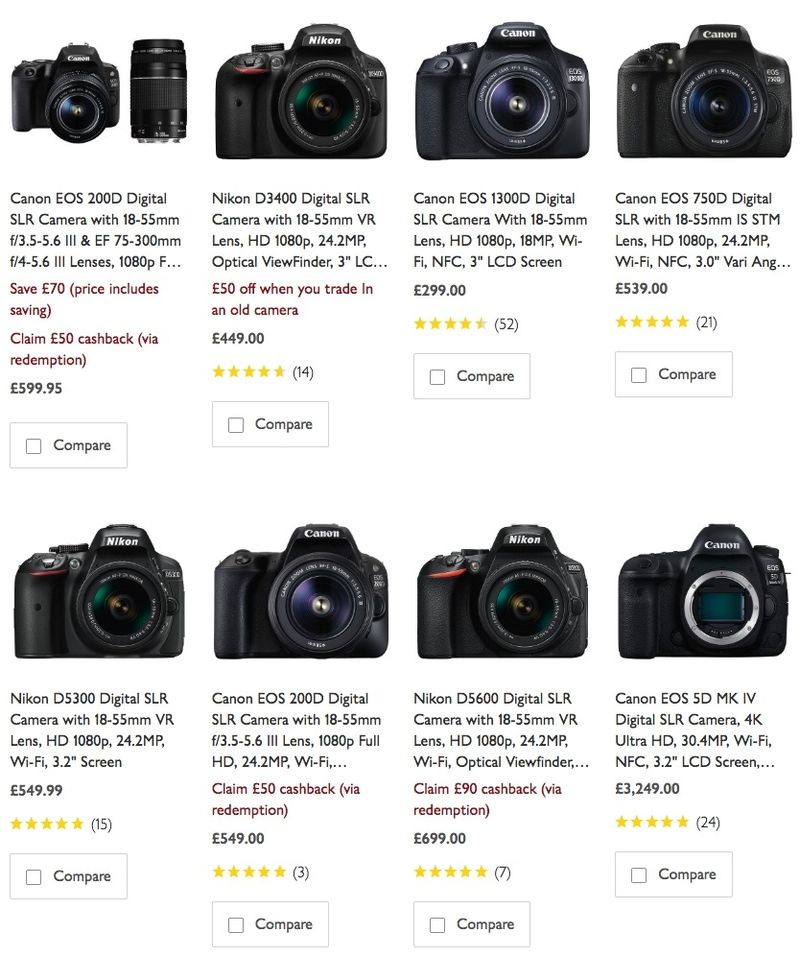 Now in comparison see what consumers are presented with (below) on the Myer mobile site when consumers are searching for garments.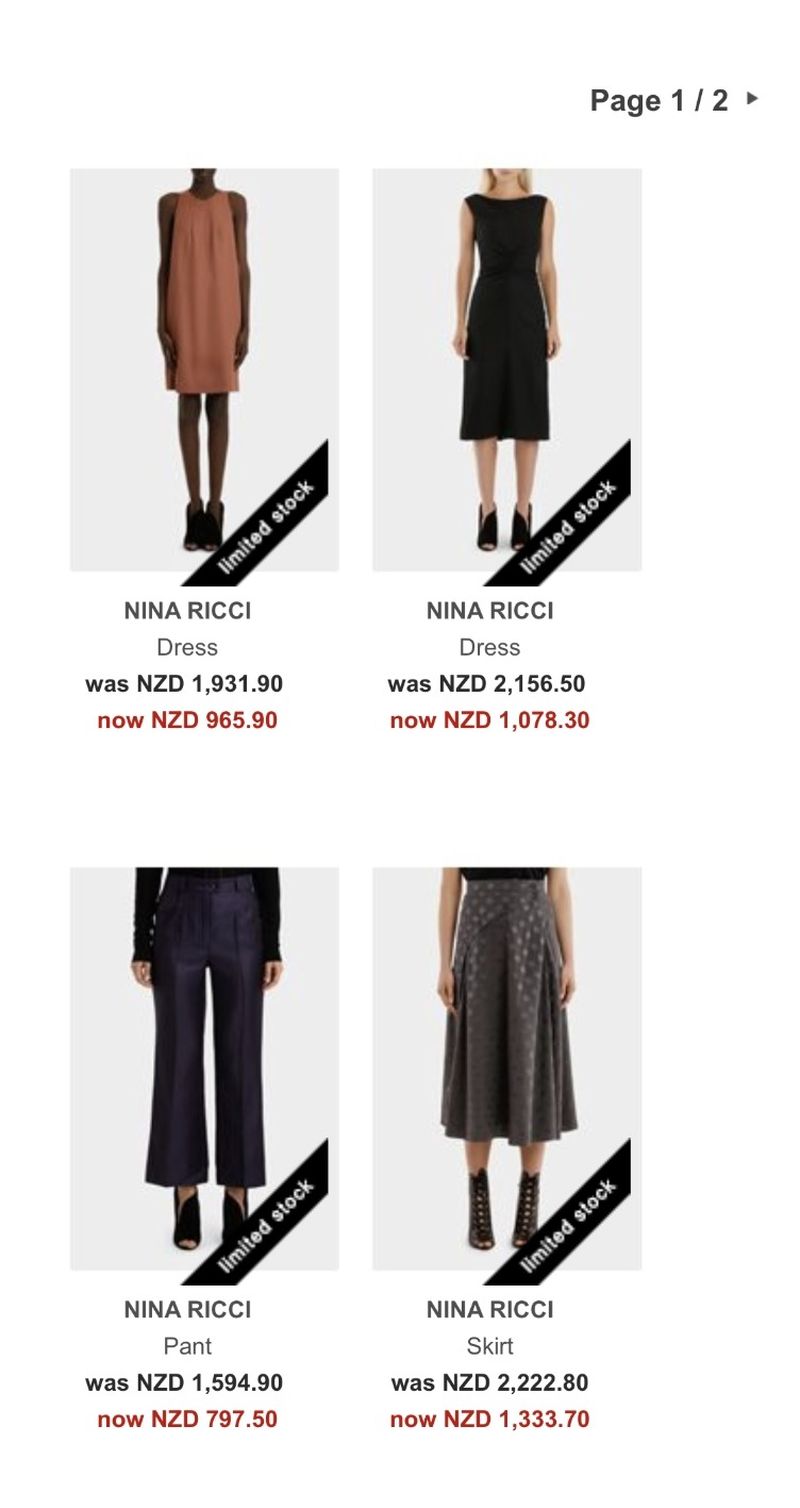 One of the foundation principles of creating amazing online experiences is to deliver the right content at the right time for consumers. Delivering enough information on the product at this stage, impacts a consumer's journey.
The lack of product context delivered by Myer (and the Nina Ricci brand) adds no value to consumer decision making.
Side note: "Quick View" functionality is not the answer.
2. Introducing products on small screens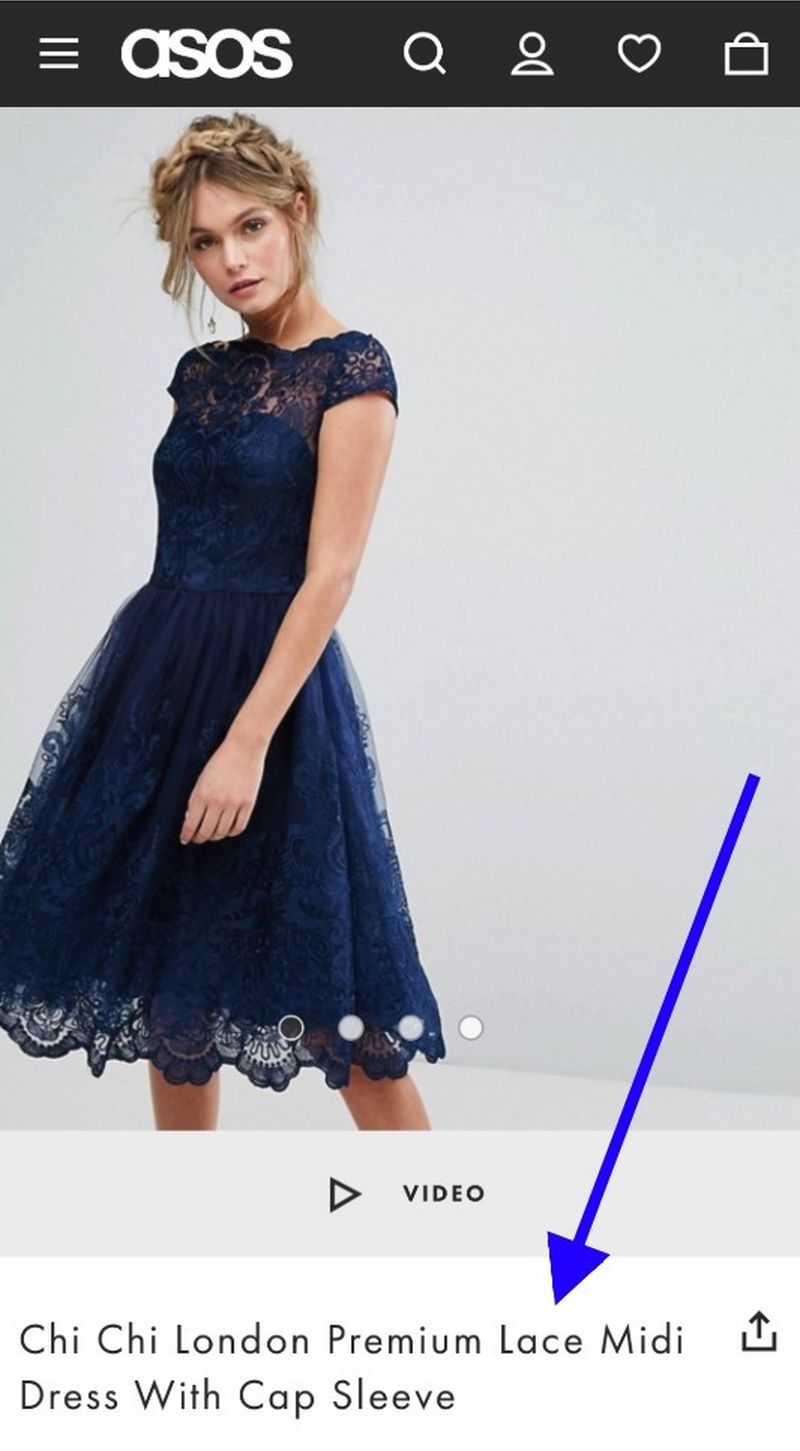 On small screens where delivering the right information at the right time is crucial, having product titles sitting above the fold (with the feature image) on product detail pages works to provide enough content to entice the consumer to engage and scroll down the page to learn more.
While ASOS places the product title below the feature image (ideal placement is above the image), it still sits above the fold.
If you wondered what the difference between a good descriptive title looks like vs a bad one, compare the ASOS title for the Chi Chi dress to the Nina Ricci garments from Myer (above).
3. Click Through from Google Results Pages
If products are being presented in a results page in Google for free (organically), the long descriptive title helps prompt consumers to click on the search result.
SEO- friendly URL's aren't simply important because they will give you better rankings in search engines, they also answer basic questions pertaining to the buyer's awareness stage and prompts click through.
4. Enriching Site Search Experiences
One of the ways to improve the relevancy of site searches (consumers conducting searches within the retailer's site) is to introduce descriptive product titles.
Larger retailers have hundreds of thousands of searches occurring in their own site each year.
The conversion rates are typically two to three times higher when consumers use site search, but this should be much higher. Incorporating descriptors in product titles improves site search relevancy without spending any more effort on search logic, which can vary across all eCommerce platforms.
When analysing the behaviours of millions of consumer sessions across multiple retailers over the last 12 months, the site search behaviours occur more on smartphone devices than on desktop. In most cases the frequency of searches are double on smartphone screens. Improving the relevancy of search results on small screens will have business impact.
Below is an example of what is presented when a consumer types "Ralph Lauren slim fit shirts" into the ASOS site search....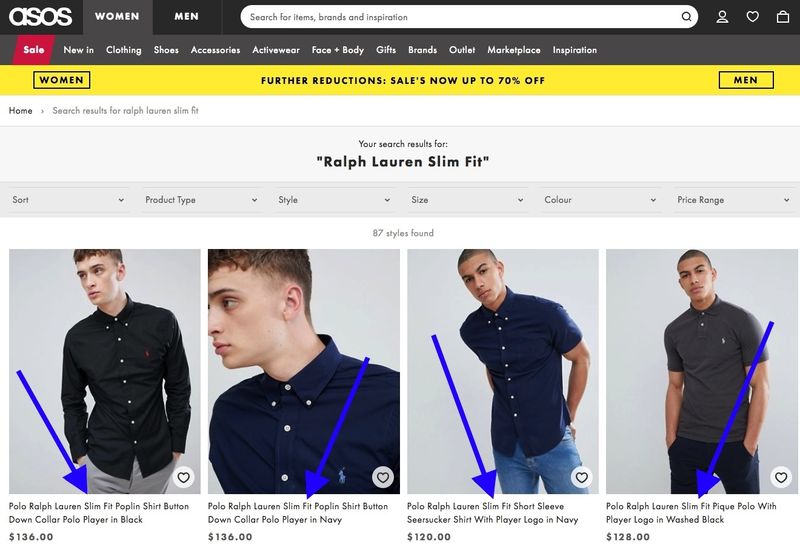 Every product presented on the results page has "slim fit" residing within the title. Not only does this deliver the right results, the presentation of keywords within the title becomes another validation point verifying these results are relevant.
A great site search experience for the consumer!
5. Preparation for Marketplaces
If a retailer embarks on a marketplace strategy, there is a heavy reliance on product titles with relevant descriptors. This is a foundation strategy for retailers who are seeking to grow their presence and sales performance on Amazon US.
Brands succeeding in driving sales and share in Amazon "have product titles twice as long as their counterparts"
6. SEO (driving targeted free visibility)
Google has a complex indexing process constantly running with the sole purpose of understanding what content a retailer is holding. This is done to identify and display businesses who have content (products and services) that are relevant to specific consumer searches.
By incorporating the right descriptors in the product title, Google not only reads this on product pages (page titles) but it also reads the product URL created as a result of the product title (assuming the URL structure within the eCommerce platform is to a high standard - "clean").
This is why the process of creating product titles needs to be carefully planned and research driven ("research driven" = analysing consumer research behaviours).
The days of "stuffing" search terms into product pages (and landing pages) is an outdated activity. Google supports retailers who deliver great experiences and those who provide the right information at the right time. This is why product titles are important.
This from Search Engine Journal:
Keyword density is an outdated concept. It's not important anymore. And there is no ideal percentage (of keywords on a page). Use keywords as it makes sense in the content and don't worry about density.
7. Preparation for Google Shopping
In Google Shopping, there are "rules" that are set out by Google as to how these products are ranked and displayed on results pages. One of the important rules are the standard of product titles.
This from Search Engine Land....
Product titles are among the most important factors influencing the performance of Google Shopping campaigns
But this makes sense. A consumer is looking for a product or solution and is presented products in thumbnail format. How can he/she possibly determine if a product is going to solve a problem with a simple term like "Chelsea Boot" (see below)?
The screenshot below is what consumers see (in Google Australia) when they type in "ankle boots" into Google...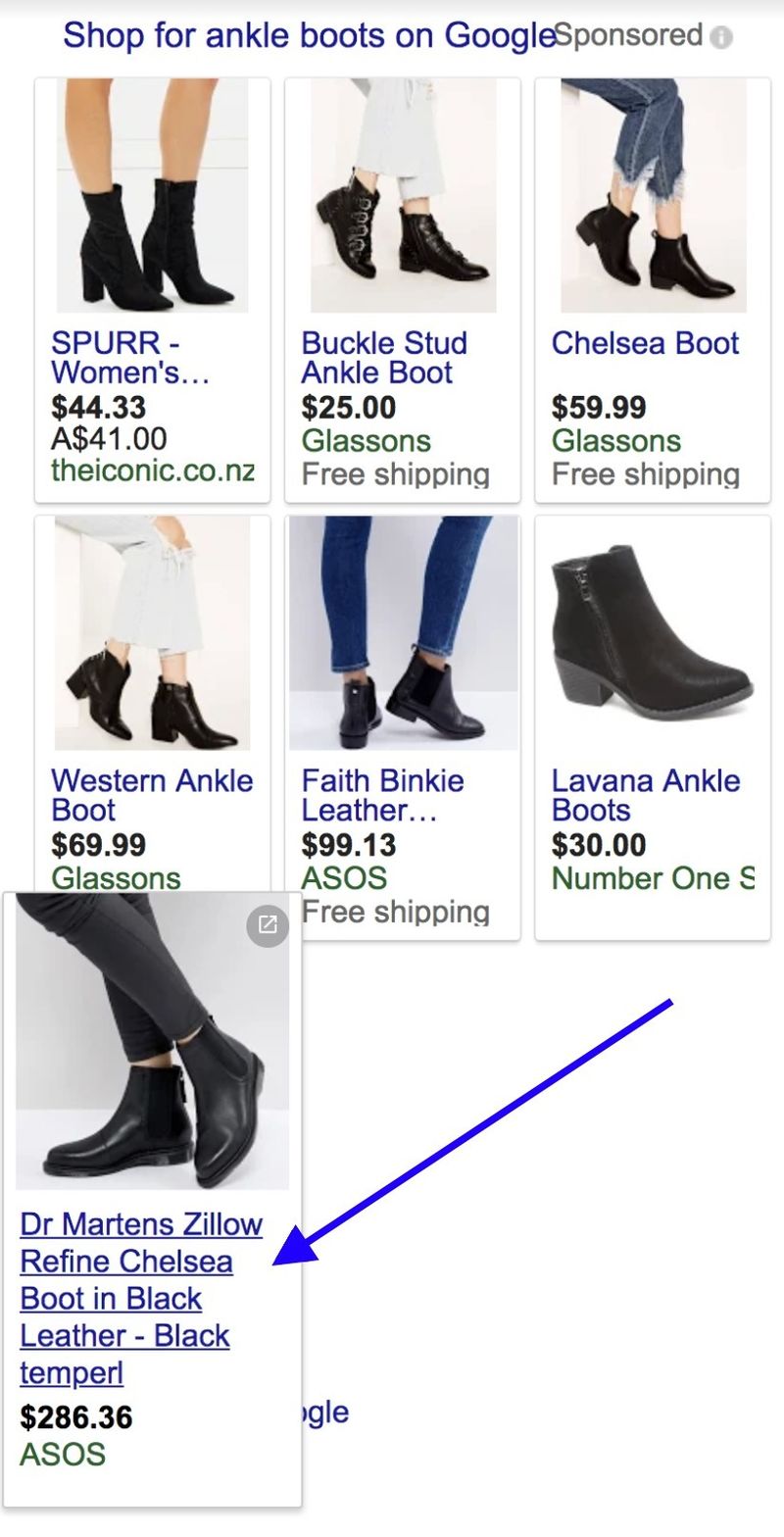 Google knows long product titles help consumers with their decision making and how delivering this extra product information will prompt click through. And since Google Shopping is another form of advertising for Google, they want consumers to click on these ads.
The Process
The process of creating the right "product title formula" is different for every business, but it is collaborative.
Some examples as to how teams can work together to create the right formula:
The digital teams undertake consumer demand research to see what naming conventions are being used by the target market.
The design and/or buying teams call out the meaningful product attributes. These are the characteristics of the product they perceive as being important to the product design and important to the consumer.
The sales and marketing teams identify benefits.
Then all three teams come together to create titles that are meaningful and value driven for the consumer.
Now take a moment and look at the product titles for your business.
Does it provide context to the product?
Does it provide the consumer a sense of the product's core characteristics?
Is there consistency across all product titles?
Descriptive product titles are like a salesperson
Another way to look at product titles is, think of a salesperson (in store) who is introducing one of your products to a consumer for the first time. How would a great salesperson introduce that product? Once you have had a moment to visualise the answer, take a look at the product titles on your site. Is the answer similar to the titles?
If not, it's time to make a change.
---
This article was as tagged as Best Practice , SEO