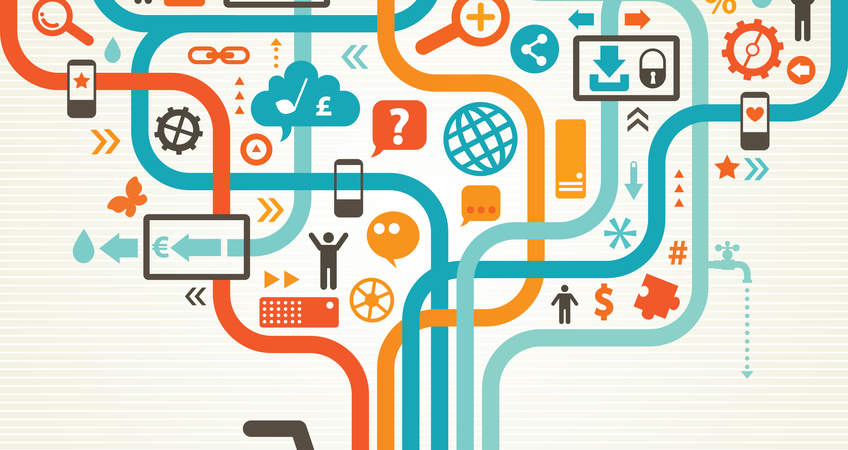 A common buzzword creeping into a Retailer's vernacular is "Marketplace" and how launching one should be part of a retailer's overall growth plan.
It's no wonder it's a hot topic, 63% of global online spending in 2020 took place on online marketplaces (includes Amazon sales data).
According to Forbes, B2C marketplace sales worldwide could reach an estimated $3.5 trillion by 2024.
Defining "Marketplace":
By way of definition, a "Retail Marketplace" takes on two different forms…
Form #1 – "Hybrid":
The Marketplace "Host" (owner of the Marketplace brand and platform) offers its own products and builds out product ranges through third party "Sellers". This Hybrid version starts with the "Host" first being a successful retailer who has a large loyal following: Amazon and Walmart are "Hybrids".
Form #2 – "Department Store 2.0":
The Marketplace "Host" offers no products and takes on the role of creating a platform for third party "Sellers" to make their products available to large loyal audiences: Etsy and eBay. Forbes calls this Department Stores 2.0.
While Department stores internationally are closing down,Marketplaces are exploding. According to Gartner, by 2023, 15% of medium-to-large retailers will deploy their own marketplaces.
In retail, it's common for the buzzwords and/or buzz concepts to take a life of its own, become a self-fulfilling prophecy. Meaning, because it's a "buzz", retailers latch on to a concept and rush to build something similar.
It is common in the retail industry for new retail concepts to explode and proliferate the way marketplaces are now. What is also common is that after a time, there's a shakeout and only the most successful survive.
Everywhere you turn, new marketplaces are being launched. Recently, there have been a number of well-known retailers who have gone this way…
Forever 21
Urban Outfitters
J Crew
Best Buy
Macy's
Bed Bath & Beyond (USA)
The bigger issue is, the PR behind each launch is positive (as you would expect) contributing to the buzz.
The billion-dollar question is, will this "Pandemic-Powered" behaviour of buying on marketplaces translate into a realistic approach to growth for medium-to-large retailers?
The only way to answer this is to diagnose what consumers want of a Marketplace.
What Consumers Want of Marketplaces:
The true benefit of a Marketplace comes down to one word: "Convenience".
This one word is broken down into the following forms of convenience….
Access to products in stock (this has become more important since the Pandemic decimated supply chains)
Product variety in a single location
Multiple delivery (fast) and pick up options
Forrester's research on Marketplaces unearthed another layer of detail around what consumers define as being important. The graph below summarises what is "really important"…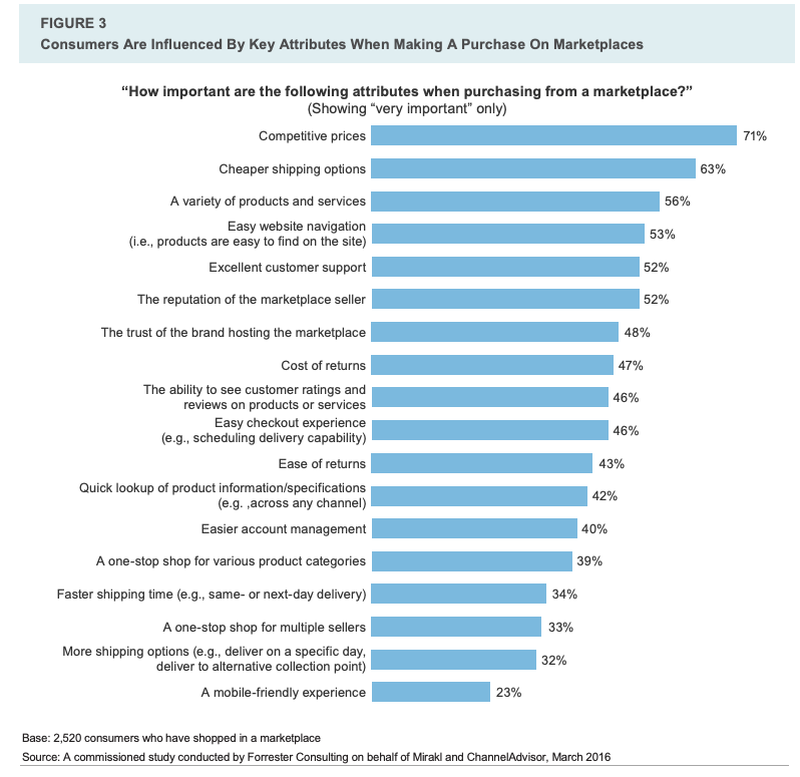 Getting these "factors of convenience" right is the foundation to building trust in a Marketplace model. This is why the "Hybrid Marketplace" model is known to grow faster, they have facets of trust established with an existing customer database.
This is the value of being a successful retailer first before embarking on a Marketplace strategy.
Forrester found once trust was established in a Marketplace, frequency of buying increased and loyalty grew.
Loyal customers shop three to five times per month.
40% of surveyed consumers had an issue with a marketplace purchase, but they remained with the Marketplace and avoided the "Seller".
The Marketplace Building Blocks:
We now know the size of the opportunity and what consumers want. From this we can break down the key components required to build a Marketplace solution designed to achieve the consumer's "convenience" needs.
Without going into the heavy detail, the foundational building blocks can be broken down into four components…
#1. Logistics and Order Management:
Marketplace business models can bring complex inventory and order management dynamics.
While Marketplace owners think about order management and logistics from the scale perspective, consumers think about what's shown above: fast delivery options, easy returns etc…
This ability to design a scalable method to manage a high volume of orders across multiple Sellers and inventory locations is unique to every Marketplace and is far more complex than any typical retailer model because of the "Seller" dynamic.
Scalable, automated workflows must work both inside and outside the Marketplace "Host's" technical infrastructure.
#2. Curation – Quality over Quantity:
Success in curation comes down to a Marketplace "Host's" outlook and product mix strategy. Put simply, this is the approach to introducing product ranges within a Marketplace.
This need to get "curation" right tightly links to "product variety" needs found in the consumer research. But be careful to not misinterpret the definition of "variety".
It's not about offering a high volume of one product type. It's more about a strategic selection of products across multiple ranges.
Consumers no longer want to sift through thousands of products on product listing pages. They want Marketplaces to curate the "best" products.
Google's consumer trending data shows an 80% increase for searches where the term "best" is used for product searches: "best face moisturiser".

Google found…
Searching "best" helps save time by returning a curated list of fewer options or aggregated rankings, ratings, or reviews from consumers and experts

This search behaviour translates into how consumers want Marketplaces to range products.
#3. Support:
Marketplaces are not known for their support. The "Department Store 2.0" versions focus on presenting the "Seller" community and let them lead the support function. However, this risks the integrity of the Marketplace brand.
This is another reason the "Hybrid Marketplace" is seen to be more successful, there is vested interest in driving and owning the support function which translates to greater loyalty behaviours.
#4. Platform - the Marketplace Experience Enabler:
The platform technology connecting the presentation layer to the myriad of business systems, plays a key role in creating intuitive and engaging Marketplace experiences. Due to the high volume of products which can be available from a variety of "Sellers" requires key platform features to operation to a high standard.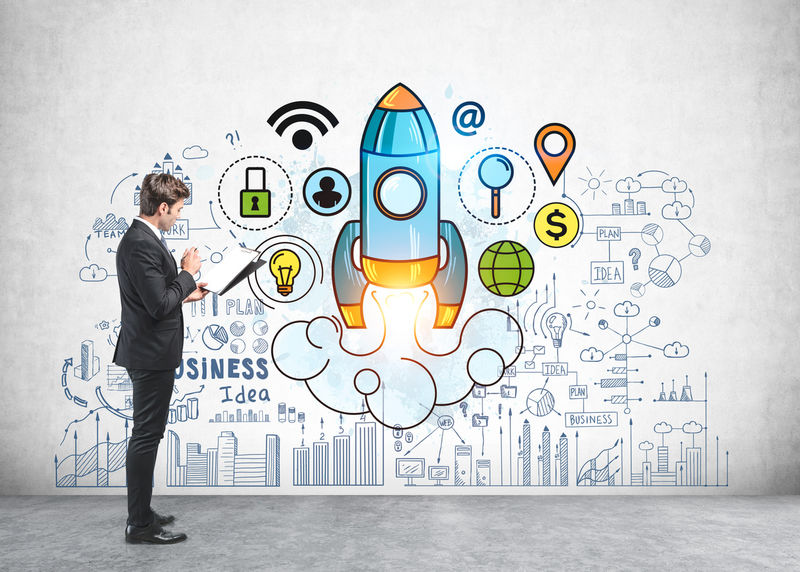 There are some core features worth calling out that are key to driving Marketplace engagement…
Site Search:
There is a direct correlation between the number of products available and the occurrences of site search behaviours. Consumers are more prone to conduct a site search instead of working through a high volume of categories and category layers. Have you ever tried to navigate through Amazon's categories!
It's not a mistake the Amazon search box is the most dominant element in its header for both Desktop and Mobile.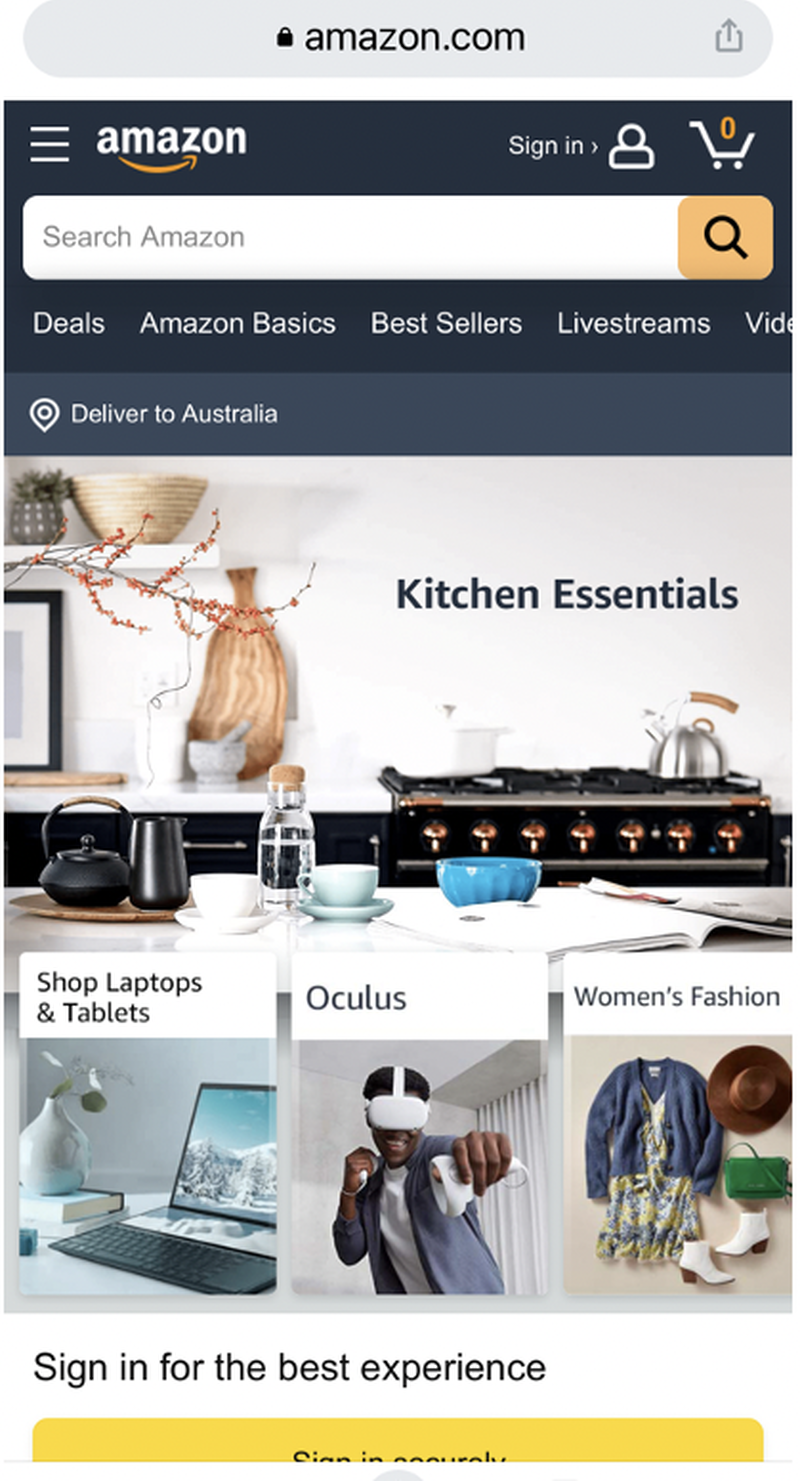 Filters (Refinement Experiences):
It's common for categories to hold thousands of products on Marketplaces. The ability to empower consumers to quickly refine a large selection of products to a small selection based on relevant product attributes is an essential requirement in driving engagement.
Walmart is known for getting this right at scale.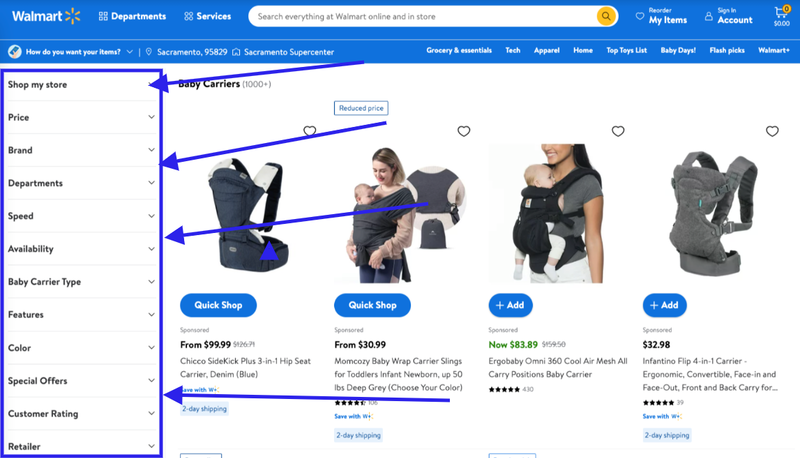 Rating and Review Systems:
To control the "content destiny" of "Seller products", a Marketplace requires a product review system that achieves two things…
Makes it easy for customers to write a review
Makes it easy for others to engage with a high volume of review content
Chewy is a successful Pet Marketplace that has done a great job driving review content for all products….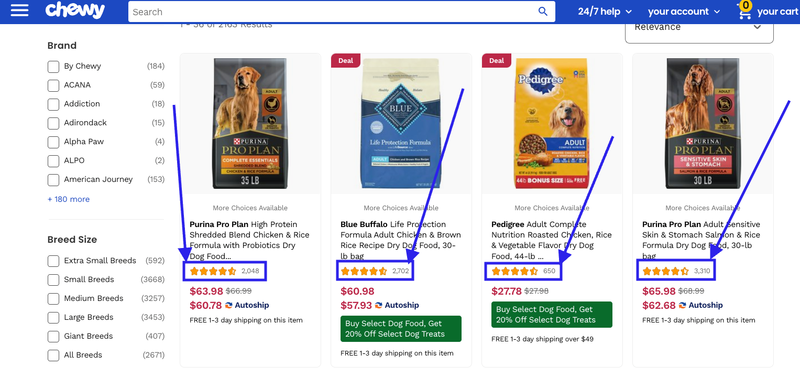 Conclusion:
The opportunity is real, consumers are looking for online experiences that bring high standards of convenience. But Amazon has set the bar. If a business is focussed on creating a new Marketplace, take heed to the research mentioned above.
If you cannot meet the convenience needs above, you will struggle.
---
This article was as tagged as Customer Experience Design , Digital Strategy , Ecommerce , Loyalty