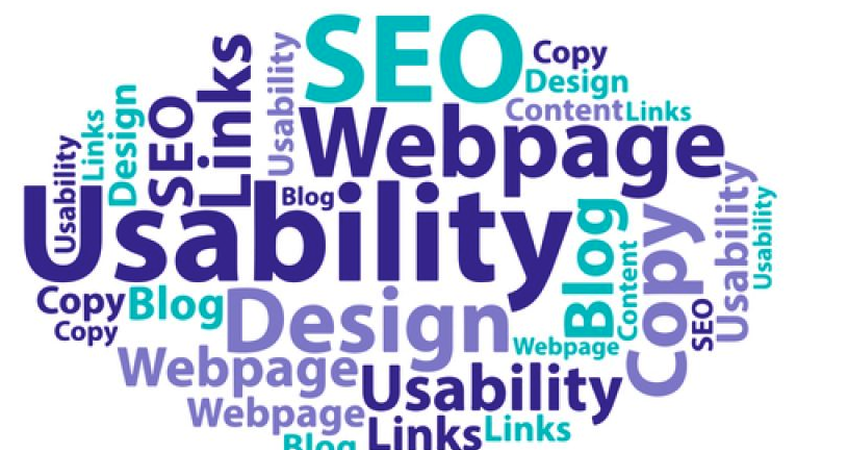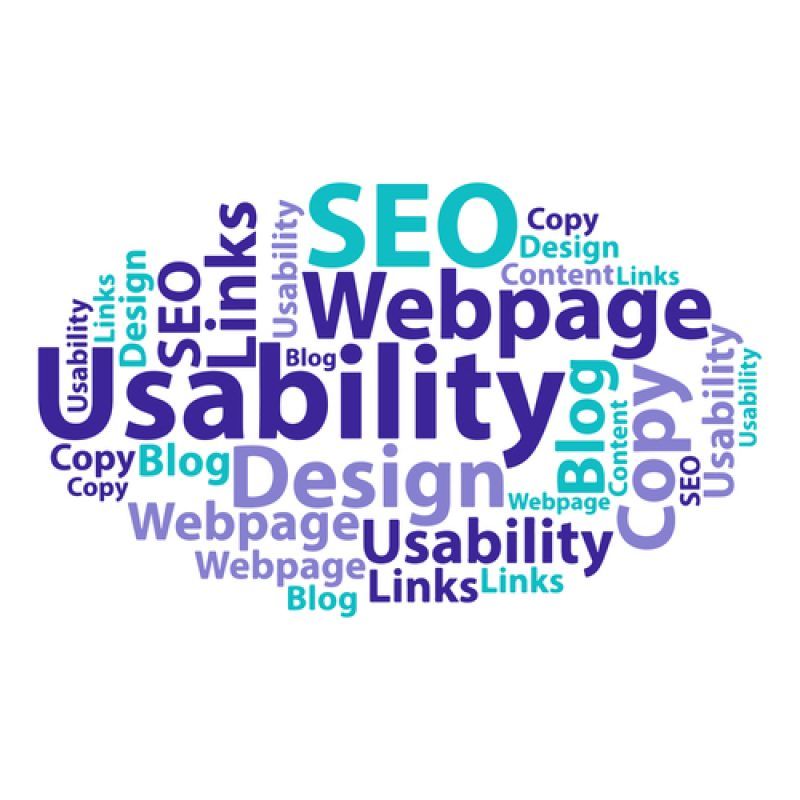 Working alongside credible SEO specialists is an important part of any long term digital strategy. While you are looking for credible specialists with proven experiences, you can get started on your own. There is a lot you can do to impact your free rankings in search engines.
The challenge for most is where to start, what to focus on, and what activities are required to lay down a best practice SEO foundation. This article pulls together 6 impactful tips retailers can immediately get started on.
Tip #1 The Consumer always comes first
All SEO activities must consider the consumer first before accommodating search engines. The challenge to delivering front-end SEO activities is to deliver a balance of SEO to accommodate search engine algorithms and preserve consumer journeys.
This is Tip #1 because it is the most common mistake made. Many retailers would stand by there reasoning to sacrifice journey but they don't realise two things:
By damaging the experience, they lose the consumers they attract, and
Google is focused on and supports the delivery of great online experiences. This focus is seen through the eyes of their SEO algorithms.
If retailers followed SEO best practice (in other words Google's rules) they will, enhance consumer journey. One example of this in action is page load speed. Case studies have proven fast loading websites rank higher in Google's free listings than the slow ones.
Read my page load speed article on Econsultancy addressing Google's support of fast loading sites.
An example of SEO coming first over the customer can be seen on The Warehouse site: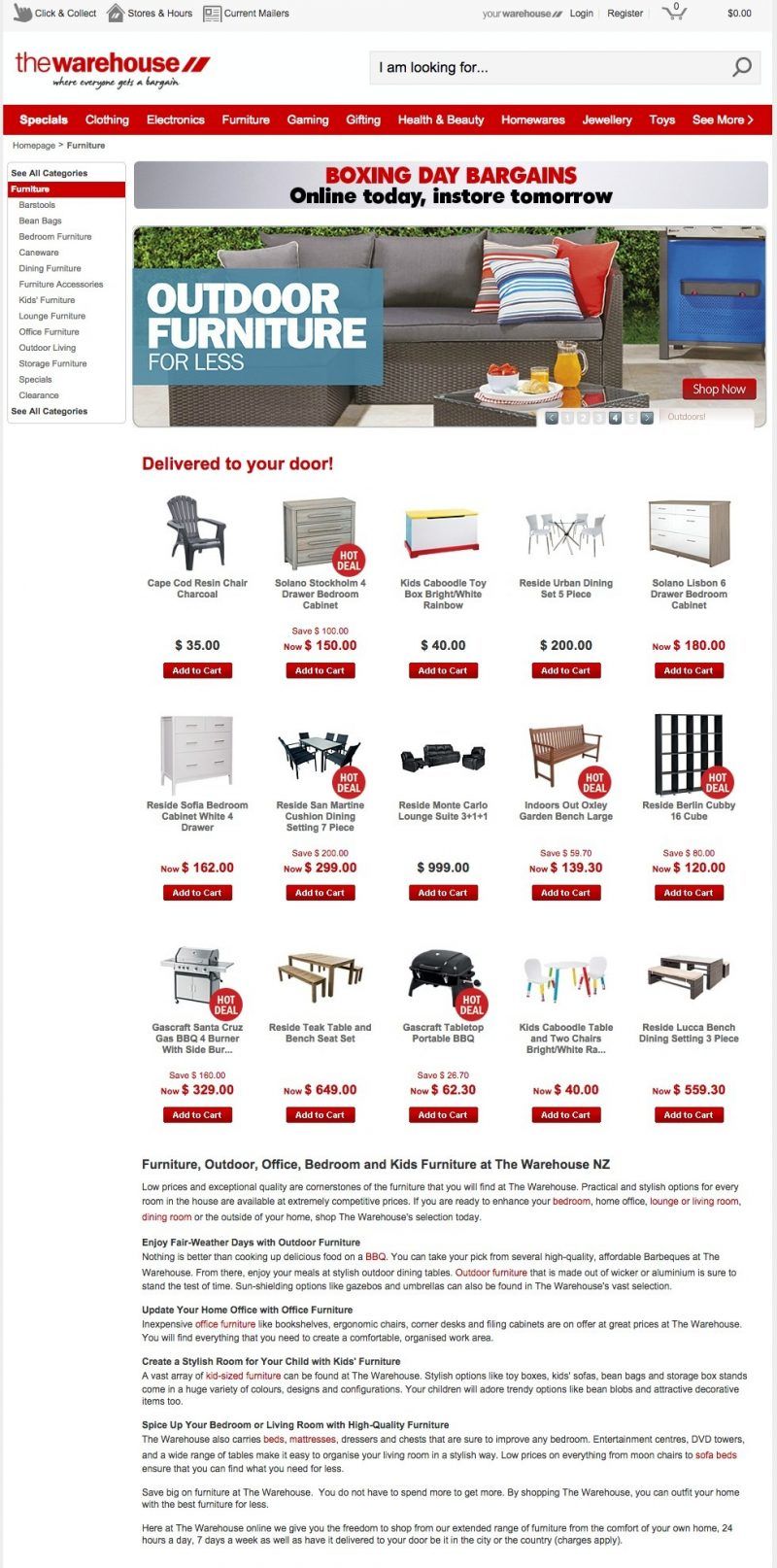 When you land on the Furniture category page you will notice six paragraphs of copy with the word "furniture" used 11 times. If a consumer has the intent to purchase furniture they are not going to read six paragraphs of copy at this stage of their journey. It's too early (this is assuming the content is relevant).
The irony of this example is, there are many SEO fundamentals The Warehouse has not implemented on this page.I explain these issues and remedies to the main category page layouts of The Warehouse in an article written in December 2014.Read it here.
Tip #2 Do not get caught up in SEO analysis of your competitors
Some SEO experts are adamant the first rule/tip should be to analyse your competitors. The question needs to be asked, how is this information going to help you make decisions around your own SEO and business conduct?
Some will argue this analysis will bring to light the SEO activities your competitors are undertaking, however, who is to say they are gaining better value from these rankings? You also may have a different product mix, different resource skill sets, and different budgets. Your brand may also be stronger or weaker than your competitor requiring different activities.
MOZ confirms Google changes its SEO algorithm (this is the criteria Google uses to rank websites for keywords) on average between 500 to 600 times each year. You will literally go crazy trying to keep up with the changes occurring in Google rankings for your competitors and become lost in this process.
Copying competitor conduct delivers no guarantee this tactic will translate to value for your business. It's good to have a superficial high-level view of your competitors and their conduct, but more from an awareness perspective. Your time is better spent working on the other tips.
Tip #3 Develop a formula for your product titles
There are two elements to getting product titles right: 1) avoid internalised jargon, use names your consumers understand and are looking for, and 2) the proper structure of a product title.
Have a look at this product name from Freedom Furniture:
"Signature 3 Seat Sofa in Almeida Parchment"
There are 0 searches in Google for "Sofa's in Almeida Parchment".
The other issue with this product title is the use of the term "Sofa". The consumer demand in NZ for the term "Couch" is more than double "Sofa" terms.
By changing the product title to "Signature 3 Seat Couch in Beige" Freedom Furniture has opened its business to triple the demand and triple the opportunity.
Review your product naming convention and develop a formula to clearly explain the product and leverage brand (if possible).
A typical formula to follow is:
Product title beginning: brand name
Product title middle: description of product
Product title ending (optional): material type, size and/or colour
Displaying the brand title in the front of the product title is a minimum requirement. The saturation of brand titles in your product mix will deliver impact (assuming your product range is deep enough).
Successful online retailers follow this approach and formula religiously:
"Calphalon Simply Calphalon 10" Omelette Pan with Cover" (Zappos)
"Polo Ralph Lauren Custom Fit Long Sleeve Polo Shirt, Polo Black" (John Lewis)
"L'Oreal Paris Colour Riche Lip Balm, Pink Satin, 0.10 Ounces" (Amazon)
Not only does this provide consumers with a clear idea of what a product is, it greatly increases the opportunity of these products being visible in search engines for longtail terms (these are searches in Google using multiple words).
Tip #4 Develop category titles to align to your target market
Think back to when you created the names for your main and sub category titles. What was the process? Did you think about what consumers are looking for online? What words they might use when searching? Or was this decided internally amongst members of your team.
To truly find out if your category titles align to the demand of your target consumer, conduct an audit on every category title you have.
Implement the following methodology in your audit:
Research New Zealand search demand by using free tools provided by Google.* Research trending data on these terms (using Google Trends).Review your existing data on category popularity.Research your site search data to see what customers are searching for on your website.Balance the above research with the size of product offering you offer.
*It's important to understand, with Google's global dominance (95% market share in New Zealand) comes many strategic advantages to retailers. Google offers free tools to assist in understanding what consumers are searching for.
Google is the largest consumer panel in the world. It records every search query made and delivers this insight for free. The days of guessing what your target consumers are looking for is over.
The combination of consumer demand research, existing consumer behaviour, and your product offering will collectively deliver category naming exactly aligned to your target consumers and in doing so, will deliver impact to your SEO efforts. This is SEO.
Whilst you do not need to rely on SEO specialists for this rule, they would add value to this process through their assistance in keyword research.
Tip #5 Introduce Social Proof into your site i.e. Customer reviews
This rule is a good example of what can be done to lift both organic rankings and consumer experience. Customer review content has proven to assist in conversions, and build product visibility in search engines.
The challenge in making this rule work for the business comes in the business disciplines required to drive and influence consumers to deliver this content.
Many customers are too busy to take time out of their day to review a product. Retailers need to work hard at conditioning this behaviour. Four tips to increase the likelihood customers will provide a review:
Tip #1 Provide incentives. You don't need to offer a much, keep it simple such as a chance of winning something, for example, "provide a review and be in the monthly draw to win....".
For those products that are seasonal in nature and/or have shorter life spans, be more aggressive in your incentives.
Tip #2 Explain to them it will help others. There are many people who are motivated through the desire to help others.
Tip #3 Be strategic in your timing to ask for a review. For apparel, you can ask days after the purchase, for large electronic purchases it pays to wait longer. Think about what the customer is using your product for and how long it will take for them to know if they are truly happy with the purchase.
If you send the review request too soon, it will be ignored, if you send it too late, the excitement of the purchase is gone and the review will be less impactful and heartfelt.
There is no definitive best practice time to send a review request, every product type is different, every brand is different, and customers respond to each brand in different ways. If you are unsure as to when to send the request, test it.
Studies have proven when customers write how much they like/love the product they recently purchased, they like/love the product and the brand even more.
Tip #6 Ensure your eCommerce technology is built to comply to search engines
The eCommerce technology driving your online store must be built and structured in a manner to ensure all the changes mentioned above will have impact. If the eCommerce technology is not set up properly, your hard work will go unnoticed.
The solution is to work with your eCommerce technology vendor and ensure they comply to all SEO best practice standards, some examples: page structure, page load speed, clean URL strings, and site maps as a minimum.
This is best executed with the assistance of an SEO specialist. They will know the questions to ask and what to look for. Some of the eCommerce technology elements can be highly technical in nature.
Tip #7 Work with Digital/SEO specialists on your SEO strategic plan
There are immense benefits to developing an SEO strategy before taking on any and all of the above activities, but many retailers are not ready. If you fall within the "Not Ready" category, continue to think pragmatically and focus on the key activities mentioned above. You will not go wrong.
It's important to remember, the above recommendations is just the beginning. Only once you feel you have a grasp on the above, it's time to think SEO strategy.
An SEO strategy is the development of a content creation and content marketing plan. Examples of strategic content creation:
Product content (content to help sell the product: images, video, reviews),
Brand story content (content exemplifying the brand DNA - Redbull is a good example)
"Micro moment" content (content to support a consumer's early stages of buying intent or information gathering: buying guides, "how to" guides, fashion tips).
An SEO strategy achieves two primary things for the business:
1. Defines Content Architecture.
The content creation and content marketing plan drives architecture decision making and the treatment of digital assets (i.e. website, blog, social, Youtube).
One example of this in action is the use and placement of the blog. Is it best to use a subdomain ("blog.RetailerURL.co.nz") vs subdirectory where the blog content resides within the site ("www.RetailerURL.co.nz/blog") vs being completely separate ("blogURL.co.nz")?
The answer to this question is a strategic one and cannot be answered until more questions are addressed. What does the retailer want this content to do for the business?
Need to improve reputation management; is the retailer dealing with negative brand mentions in the search engine results pages?
Attempting to build a thought-leadership position?
Trying to build a channel to drive deep linking to specific pages of the website?Trying to build depth of content or develop a tool to target queries (or be visible for consumer micro moments)?
In other words, do you want to attract and acquire early stage buyers by being visible in search engines for non-branded terms?
Broaden organic visibility across many keyword terms?
Enrich the consumer experience with content?
The improper use of a blog tool will dilute the content marketing plan and diminish the SEO opportunity for the business.
2. Defines the content creation plan.
Content must be written first for the consumer, second for search engines (see Tip #1).
Consumers will know immediately if content is made for them or search engines. Reading copy with the same words repeated and displaying paragraphs of content when it adds no value damages the experience.
Strategy also enhances the little things. Something as simple as blog article titles may not seem important, but when a title makes sense to consumers and entices them to read the content, it lifts its impact for both consumer relevance and SEO.
When it comes to finding credible SEO specialists, find those who do more than just SEO services. SEO intermingles with usability, user experience, and influences your new customer acquisition strategy.
Partnering with specialists who solely focus on SEO will lead to examples like The Warehouse, where SEO activities operate in a silo.
---
This article was as tagged as Digital Strategy , SEO